| | |
| --- | --- |
| HS: Cushing Academy | Ashburnham, MA |
| HS: Nashua South | Nashua, NY |
Season Stats

| Season | Cl | Pos | G | GS | Min | FG | FGA | % | FT | FTA | % | 3Pt | 3PA | % | Asst | Reb | DReb | OReb | Fls | DQ | TO | ST | BS | Pts | PPG | APG | RPG |
| --- | --- | --- | --- | --- | --- | --- | --- | --- | --- | --- | --- | --- | --- | --- | --- | --- | --- | --- | --- | --- | --- | --- | --- | --- | --- | --- | --- |
| 2014-15 | Fr | G | 31 | 30 | 847 | 68 | 181 | 37.6% | 41 | 57 | 71.9% | 7 | 35 | 20.0% | 119 | 68 | 54 | 14 | 57 | 0 | 72 | 28 | 3 | 184 | 5.9 | 3.8 | 2.2 |
| 2015-16 | So | G | 19 | 0 | 114 | 5 | 28 | 17.9% | 4 | 5 | 80.0% | 2 | 13 | 15.4% | 12 | 10 | 5 | 5 | 10 | 0 | 6 | 8 | 2 | 16 | 0.9 | 0.7 | 0.6 |
| Career | | | 50 | 30 | 961 | 73 | 209 | 34.9% | 45 | 62 | 72.6% | 9 | 48 | 18.8% | 131 | 78 | 59 | 19 | 67 | 0 | 78 | 36 | 5 | 200 | 4.0 | 2.6 | 1.6 |
Kaleb Joseph was a point guard for Syracuse University for two seasons.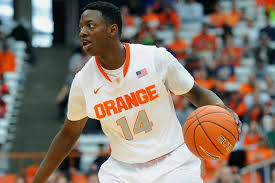 Joseph was expected to develop at the point guard behind Tyler Ennis, but was forced into the starting point guard his freshman year when Ennis departed early for the NBA. Joseph would struggle for most of his freshman year with all aspects of his game. He struggled with his ball handling and was prone to poor decisions and frequent turnovers. His perimeter shooting struggled, and he had a very hard time learning to play Syracuse's zone defense. He did have some bright moments in the season; his best all around game was against Boston College where he displayed a strong confidence in driving to the hoop to score 14 points making all seven shots he attempted and he dished out 7 assists.
Jim Boeheim moved senior Michael Gbinije to the point guard position for Joseph's sophomore year. Joseph had worked on his jump shot all summer, and reports were that he had greatly improved, and there was hope he would be able to be a valuable backup as the season progressed. However, he did not impress the coaches enough, and freshman Frank Howard started earning more playing time. By time the ACC conference play started, Joseph was seeing very little playing time. He wouldn't score in any games after the Montana State game, and play in only 18 minutes of ACC games.
Joseph announced at the end of his sophomore year that he was transferring to Creighton.
Creighton Statistics

| Season | Cl | Pos | G | GS | Min | FG | FGA | % | FT | FTA | % | 3Pt | 3PA | % | Asst | Reb | DReb | OReb | Fls | DQ | TO | ST | BS | Pts | PPG | APG | RPG |
| --- | --- | --- | --- | --- | --- | --- | --- | --- | --- | --- | --- | --- | --- | --- | --- | --- | --- | --- | --- | --- | --- | --- | --- | --- | --- | --- | --- |
| 2017-18 | Jr | G | 15 | 0 | 116 | 19 | 33 | 57.6% | 22 | 27 | 81.5% | 5 | 11 | 45.5% | 21 | 16 | 13 | 3 | 10 | 0 | 10 | 4 | 0 | 65 | 4.3 | 1.4 | 1.1 |
| Career | | | 15 | 0 | 116 | 19 | 33 | 56.6% | 22 | 27 | 81.5% | 5 | 11 | 45.5% | 21 | 16 | 13 | 3 | 10 | 0 | 10 | 4 | 0 | 65 | 4.3 | 1.4 | 1.1 |
© RLYoung 2014, 2015, 2016, 2017, 2018