| | |
| --- | --- |
| HS: Fayetteville | Fayetteville, NY |
| HS: Staunton Military Academy | Staunton, VA |
Season Stats

| Season | Cl | Pos | G | GS | FG | FGA | % | FT | FTA | % | Fls | DQ | Pts | PPG |
| --- | --- | --- | --- | --- | --- | --- | --- | --- | --- | --- | --- | --- | --- | --- |
| 1944-45 | So | C | +2 | +0 |   |   |   |   |   |   |   |   | +0 |   ~0.0 |
| Career | | | +2 | 0 | 0 | 0 | 0.0 | 0 | 0 | 0.0 | 0 | 0 | +0 | ~0.0 |
Reaves Baysinger was a reserve center on the Syracuse basketball team for one year. He was a gifted athlete and was a quarterback on the varsity football team, lettering in 1944.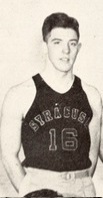 Baysinger would be drafted by the Navy following the 1945 football season, and would enroll in the Naval Academy. He would be a star quarterback at Annapolis and earned the nickname 'Iceman' for his play. He was also a pitcher on the Naval Academy baseball team.
Baysinger would graduate from Annapolis in 1949. He would serve in both the Korean War and Vietnam with the U.S. Navy, earning a bronze star for combat valor in the latter. He would achieve the rank of Captain, before passing away due to Hodgkins Disease in 1972 at the age of 45. [1]
Baysinger was the son of legendary Syracuse athlete Reaves 'Ribs' Baysinger. He had teamed with fellow Orangemen Rudy Cosentino at the Staunton Military Academy, and together they won the Virginia Military Academy football championship in 1943.
© RLYoung 2006, 2009, 2018
[Note missing scoring from 2 games, noted by the +]
[1] Obituary, New York Times