| | |
| --- | --- |
| HS: Watertown | Watertown, NY |
| | |
| --- | --- |
| Born: 5/1/1984 | Georgetown, SC |
Season Stats

| Season | Cl | Pos | G | GS | Min | FG | FGA | % | FT | FTA | % | 3Pt | 3PA | % | Asst | Reb | DReb | OReb | Fls | DQ | TO | ST | BS | Pts | PPG | APG | RPG |
| --- | --- | --- | --- | --- | --- | --- | --- | --- | --- | --- | --- | --- | --- | --- | --- | --- | --- | --- | --- | --- | --- | --- | --- | --- | --- | --- | --- |
| 2002-03 | Fr | F | 9 | 0 | 76 | 8 | 23 | 34.8% | 5 | 8 | 62.5% | 0 | 2 | 0.0% | 1 | 19 | 15 | 4 | 14 | 0 | 5 | 3 | 2 | 21 | 2.3 | 0.1 | 2.1 |
| 2003-04 | So | F | 7 | 0 | 47 | 6 | 19 | 31.6% | 0 | 2 | 0.0% | 0 | 2 | 0.0% | 2 | 14 | 9 | 5 | 10 | 0 | 4 | 0 | 1 | 12 | 1.7 | 0.3 | 2.0 |
| 2004-05 | | DNP | 0 | 0 | 0 | 0 | 0 | | 0 | 0 | | 0 | 0 | | 0 | 0 | 0 | 0 | 0 | 0 | 0 | 0 | 0 | 0 | 0.0 | 0.0 | 0.0 |
| 2005-06 | Jr | F/C | 29 | 0 | 290 | 24 | 63 | 38.1% | 23 | 36 | 63.9% | 5 | 18 | 27.8% | 10 | 61 | 35 | 26 | 30 | 0 | 14 | 7 | 11 | 76 | 2.6 | 0.3 | 2.1 |
| 2006-07 | Sr | F/C | 30 | 5 | 341 | 34 | 79 | 43.0% | 8 | 12 | 66.7% | 12 | 26 | 46.2% | 14 | 48 | 35 | 13 | 38 | 0 | 15 | 13 | 14 | 88 | 2.9 | 0.5 | 1.6 |
| Career | | | 75 | 5 | 754 | 72 | 184 | 39.1% | 36 | 58 | 62.1% | 17 | 48 | 35.4% | 27 | 142 | 94 | 48 | 92 | 0 | 38 | 23 | 28 | 197 | 2.6 | 0.4 | 1.9 |
Matt Gorman was a reserve forward and center for Syracuse with a nice shooting touch but limited athletic ability.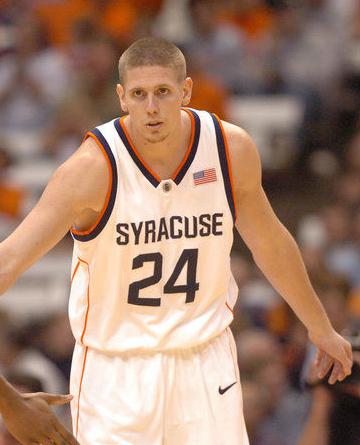 Gorman was a freshman on the 2003 National Championship team, though he had limited playing time over the season. He played even less time as a sophomore. Gorman was a decent shooter, but lacked the quickness and strength of other big players on the team. Gorman did the unusual and redshirted what would have been his junior season, in a effort to have time to improve his strength and skills.
As a junior Gorman was a regular reserve on the team providing about ten minutes each game as relief at the forward and center positions. He continued that role as a senior. He had improved his three point shooting and was a legitimate three point threat, hitting 46% of his attempts that season. He would start five games early in the season when Darryl Watkins and Terrence Roberts missed games due to injury.
Gorman would play basketball in 2007-2008 for the Neptune Basketball Club in the Ireland Superleague, and in 2008-2009 he would sign with the Sheffield Sharks in the British League. He would suffer ankle injuries while playing in England, which would cause him to miss most of the 2009-2010 season. Gorman would return to the United States to play for Scranton for a year in the Premier Basketball League, before retiring.
He would pursue a career with the Children's Home in Jefferson County [1].
© RLYoung 2006, 2007, 2012, 2013
[1] Mike Waters, Post Standard.com, 9/11/2013