| | |
| --- | --- |
| HS: Mont Pleasant | Schenectady, NY |
Season Stats

| Season | Cl | Pos | G | GS | FG | FGA | % | FT | FTA | % | Reb | Fls | DQ | Pts | PPG | RPG |
| --- | --- | --- | --- | --- | --- | --- | --- | --- | --- | --- | --- | --- | --- | --- | --- | --- |
| 1955-56 | So | G | 22 | 1 | 36 | - | - | 24 | 40 | 60.0% | - | 35 | - | 96 | 4.3 | |
| 1956-57 | Jr | G | 25 | 0 | 24 | 68 | 35.3% | 14 | 24 | 58.3% | 30 | 30 | 0 | 62 | 2.5 | |
| 1957-58 | Sr | F/G | 21 | 21 | 79 | 229 | 34.5% | 51 | 80 | 63.8% | 71 | 62 | - | 209 | 10.0 | |
| Career | | | 68 | 22 | 139 | +297 | 0.0 | 89 | 144 | 61.8% | +101 | 127 | 0 | 367 | 5.4 | 0.0 |
Larry Loudis played for Syracuse basketball for three seasons. Loudis was a hustling player, primarily playing the guard position, though he played a lot of forward his senior year.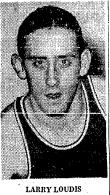 Loudis was the captain of the freshman team, averaging 17 points a game.
Loudis made his mark his sophomore year as a good defensive player, and that allowed him to get significant playing time off the bench, enough to lead the reserve players in scoring. He would score 15 points against LaSalle that season. He again was a key reserve on the team his junior season, the year Syracuse first made the NCAA tournament and made it to the Elite Eight.
Loudis would move into the starting lineup his senior season and was named the team captain. He would play both guard and forward that season, often alternating with Bruce Schmelzer, depending on the defensive match ups. He would score a career high 19 points in a close loss to Iowa. In his last collegiate game, Loudis would score 8 points in overtime to lead Syracuse to a victory over Connecticut, giving Syracuse a winning season.
Loudis would become a teacher upon graduating from Syracuse, starting with the East Syracuse-Minoa school district in 1959. He would be the JV basketball coach from 1964-1966, and would become the ESM varsity basketball coach in 1969.
©RLYoung 2008, 2017