| | |
| --- | --- |
| HS: Carteret | Carteret, NJ |
| | |
| --- | --- |
| Born: 6/29/1968 | Carteret, NJ |
Season Stats

| Season | Cl | Pos | G | GS | Min | FG | FGA | % | FT | FTA | % | 3Pt | 3PA | % | Asst | Reb | Fls | DQ | TO | ST | BS | Pts | PPG | APG | RPG |
| --- | --- | --- | --- | --- | --- | --- | --- | --- | --- | --- | --- | --- | --- | --- | --- | --- | --- | --- | --- | --- | --- | --- | --- | --- | --- |
| 1986-87 | Fr | F | 20 | 0 | 80 | 14 | 28 | 50.0% | 9 | 12 | 75.0% | 0 | 0 | --- | 6 | 19 | 21 | 0 | 10 | 1 | 2 | 37 | 1.9 | 0.3 | 1.0 |
| 1987-88 | So | F | 19 | 0 | 276 | 44 | 104 | 42.3% | 14 | 25 | 56.0% | 1 | 7 | 14.3% | 7 | 51 | 47 | 3 | 17 | 17 | 4 | 103 | 5.4 | 0.4 | 2.7 |
| Career | | | 39 | 0 | 356 | 58 | 132 | 43.9% | 23 | 37 | 62.2% | 1 | 7 | 14.3% | 13 | 70 | 68 | 3 | 27 | 18 | 6 | 140 | 3.6 | 0.3 | 1.8 |
Keith Hughes was a talented forward who was a reserve for Syracuse for two seasons. Hughes came to Syracuse with high expectations. He had the unfortunate timing of arriving at the same time as Derrick Coleman and Stephen Thompson, and he saw very little playing time his freshman year.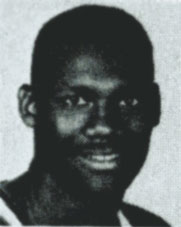 In his sophomore season, Hughes was still a bench player, averaging 5.4 points per game in a limited role. He led the team in scoring in a win over St. Bonaventure with 19 points. However, as the season progressed he was getting less and less playing time. Hughes believed he would have a tough time ever earning a starting position. Coleman and Thompson weren't going anywhere, and the highly touted Billy Owens was joining the team, along with forwards Dave Johnson and Tony Scott. So on February 16, 1988, without notice, Hughes quit the team.
After sitting out one season (due to transfer rules), Hughes would star at Rutgers University. He would score 1,257 points in two season (64 games) and pull down 575 rebounds, for averages of 19.6 ppg, and 9.0 rpg. He would be named to the Atlantic 10 Conference second team his junior season, and the conference first team his senior season. He was the Atlantic 10 Player of the Year in 1991. He scored a career high 40 points in a win over Penn State his senior year.
In his four years of college basketball, Hughes would score 1,397 points for an average of 13.6. ppg.
Hughes would be drafted in the second round of the NBA draft by the Houston Rockets (the 47th pick overall), and then was traded to the Cleveland Cavaliers. He would however fail to make the team.
Hughes would play in the CBA for Oklahoma City in 1991, and Albany in 1992. He would play basketball internationally in Argentina, France, Belgium, Poland, Turkey and Spain. In 2006, he returned to coach his high school alma mater's basketball team.
Hughes died in 2014 at the young age of 45.
© RLYoung 2006, 2014, 2015