| | |
| --- | --- |
| HS: Fort Lee | Fort Lee, NJ |
Season Stats

| Season | Cl | Pos | G | GS | FG | FGA | % | FT | FTA | % | Reb | Fls | DQ | Pts | PPG | RPG |
| --- | --- | --- | --- | --- | --- | --- | --- | --- | --- | --- | --- | --- | --- | --- | --- | --- |
| 1957-58 | So | G | 17 | 17 | 103 | 284 | 36.3% | 57 | 80 | 71.4% | 49 | 43 | - | 263 | 15.5 | 2.9 |
| 1958-59 | Jr | G | 21 | 19 | 133 | 266 | 50.0% | 104 | 140 | 74.3% | 44 | 61 | - | 370 | 17.6 | 2.1 |
| 1959-60 | Sr | G | 20 | 17 | 104 | 236 | 44.1% | 102 | 142 | 71.8% | 66 | 49 | - | 310 | 15.5 | 3.3 |
| Career | | | 58 | 53 | 340 | 786 | 43.3% | 263 | 362 | 72.7% | 159 | 153 | 0 | 943 | 16.3 | 2.7 |
Eddie Goldberg was an outstanding guard for Syracuse in the late 1950's, during a time when the talent level on the team was declining. He was a fast player and a consistent scorer, starting all three years. He was the second leading scorer each of his three seasons, and was a solid free throw shooter, and a tremendous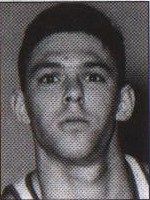 perimeter shooter.
Goldberg was a walk-on for Syracuse. He would prove himself worthy of a scholarship and earn one. [1] Goldberg was the leading scorer on the Syracuse Freshman basketball team. In a freshman game, he set an Archbold Gymnasium scoring record with 44 points against Cornell (Feb 23, 1957).
Goldberg was injury prone, and missed playing time all three seasons. As a sophomore he injured the ligaments in the Penn State game, and missed the last four games of the season. Nevertheless, he was named an honorable mention All-American his sophomore and senior seasons. He scored 23 points in his first varsity game, and eight times scored more than twenty his sophomore year. He hit a career high 30 against Fordham that year.
He would earn his law degree in 1963 and become an attorney.
©RLYoung 2006, 2015, 2017
[1] Binghamton Sunday Press, January 18, 1959