| | |
| --- | --- |
| HS: Detroit County Day | Detroit, MI |
| HS: Cass Technical | Detroit, MI |
| | |
| --- | --- |
| Born: 1/30/1991 | Detroit, MI |
Season Stats

| Season | Cl | Pos | G | GS | Min | FG | FGA | % | FT | FTA | % | 3Pt | 3PA | % | Asst | Reb | DReb | OReb | Fls | DQ | TO | ST | BS | Pts | PPG | APG | RPG |
| --- | --- | --- | --- | --- | --- | --- | --- | --- | --- | --- | --- | --- | --- | --- | --- | --- | --- | --- | --- | --- | --- | --- | --- | --- | --- | --- | --- |
| 2009-10 | Fr | C | 17 | 0 | 157 | 9 | 15 | | 5 | 11 | | 0 | 2 | | 11 | 26 | 18 | 8 | 28 | 1 | 12 | 2 | 16 | 23 | 1.4 | 0.6 | 1.5 |
| 2010-11 | So | DNP | 0 | 0 | 0 | 0 | 0 | | 0 | 0 | | 0 | 0 | | 0 | 0 | 0 | 0 | 0 | 0 | 0 | 0 | 0 | 0 | --- | --- | --- |
| Career | | | 17 | 0 | 157 | 9 | 15 | 60.0% | 5 | 11 | 45.5% | 0 | 2 | 0.0% | 11 | 26 | 18 | 8 | 28 | 1 | 12 | 2 | 16 | 23 | 1.4 | 0.6 | 1.5 |
DaShonte Riley was a center on the Syracuse basketball team for two seasons.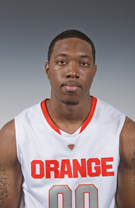 Riley came to Syracuse as a player with a lot of potential, but a need to gain weight and experience. For most of his freshman year he would see little playing time, except when the game's outcome had already been decided. However, that would change when Arinze Onuaku's season would end with a knee injury against Georgetown in the Big East Tournament. Riley would have to play the last few minutes of that game against the Hoyas' Greg Monroe, and he found it a tough matchup. In the NCAA tournament, Syracuse used Rick Jackson at center; but when Jackson was in foul trouble or needed a breather, Riley had to come in and contribute. He managed to play reasonably well in those crucial minutes. He was not asked to score, but rather to take up space in the middle of the court, and not turn the ball over.
Riley would suffer a foot injury during fall practice in 2010, which would require him to miss the entire season. After the season, he would announce he was transferring to Eastern Michigan, in order to be closer to home and his ailing grandparents. Syracuse assistant basketball coach Rob Murphy had been appointed head coach at Eastern Michigan a few months earlier, making the transition more attractive for Riley.
Riley would play at Eastern Michigan for three seasons, scoring 369 points and pulling down 512 rebounds.
Eastern Michigan

| Season | Cl | Pos | G | GS | Min | FG | FGA | % | FT | FTA | % | 3Pt | 3PA | % | Asst | Reb | DReb | OReb | Fls | DQ | TO | ST | BS | Pts | PPG | APG | RPG |
| --- | --- | --- | --- | --- | --- | --- | --- | --- | --- | --- | --- | --- | --- | --- | --- | --- | --- | --- | --- | --- | --- | --- | --- | --- | --- | --- | --- |
| 2011-12 | So | C | 19 | -- | 433 | 28 | 78 | 35.9% | 22 | 34 | 64.7% | 0 | 1 | 0.0% | 15 | 82 | 62 | 20 | 51 | 2 | 32 | 17 | 29 | 78 | 4.1 | 0.8 | 4.3 |
| 2012-13 | Jr | C | 34 | -- | 795 | 55 | 112 | 49.1% | 26 | 54 | 48.1% | 0 | 0 | --- | 25 | 208 | 135 | 73 | 49 | 2 | 82 | 34 | 67 | 136 | 4.0 | 0.7 | 6.1 |
| 2013-14 | Sr | C | 37 | -- | 950 | 62 | 126 | 49.2% | 31 | 49 | 63.3% | 0 | 1 | 0.0% | 25 | 222 | 145 | 77 | 124 | - | 60 | 28 | 95 | 155 | 4.2 | 0.7 | 6.0 |
| Career | | | 90 | -- | 2179 | 145 | 316 | 45.9% | 79 | 137 | 57.7% | 0 | 2 | 0.0% | 65 | 512 | 342 | 170 | 257 | +4 | 160 | 79 | 191 | 369 | 4.1 | 0.7 | 5.7 |
© RLYoung 2009, 2010, 2011,2013, 2015