| | |
| --- | --- |
| HS: Episcopal High School | Alexandria, VA |
| HS: Duval High School | Lanham, MD |
| | |
| --- | --- |
| Born: 7/13/1987 | Lanham, MD |
Season Stats

| Season | Cl | Pos | G | GS | Min | FG | FGA | % | FT | FTA | % | 3Pt | 3PA | % | Asst | Reb | DReb | OReb | Fls | DQ | TO | ST | BS | Pts | PPG | APG | RPG |
| --- | --- | --- | --- | --- | --- | --- | --- | --- | --- | --- | --- | --- | --- | --- | --- | --- | --- | --- | --- | --- | --- | --- | --- | --- | --- | --- | --- |
| | Fr | F/C | | | | | | | | | | | | | | | | | | | | | | | | | |
| | | DNP | 0 | 0 | 0 | 0 | 0 | --- | 0 | 0 | --- | 0 | 0 | --- | 0 | 0 | 0 | 0 | 0 | 0 | 0 | 0 | 0 | 0 | --- | --- | --- |
| | So | C | 35 | 35 | 1070 | 186 | 296 | 62.8% | 73 | 164 | 44.5% | 0 | 0 | --- | 26 | 284 | 170 | 114 | 108 | 4 | 67 | 36 | 47 | 445 | 12.7 | 0.7 | 8.1 |
| | Jr | C | 38 | 37 | 1017 | 178 | 267 | 66.7% | 37 | 124 | 29.8% | 0 | 0 | | 23 | 276 | 168 | 108 | 90 | 2 | 59 | 18 | 53 | 393 | 10.3 | 0.6 | 7.3 |
| | Sr | C | 32 | 31 | 728 | 153 | 229 | | 30 | 70 | | 0 | 0 | | 20 | 164 | 97 | 67 | 85 | 2 | 43 | 29 | 35 | 336 | 10.5 | 0.6 | 5.1 |
| Career | | | 134 | 103 | 3058 | 540 | 833 | 64.8% | 152 | 385 | 39.5% | 0 | 0 | --- | 73 | 813 | 483 | 321 | 314 | 10 | 182 | 88 | 148 | 1232 | 9.2 | 0.5 | 6.1 |
Arinze Onuaku was a strong burly center for Syracuse University, with a nice short hook shot and a strong defensive presence.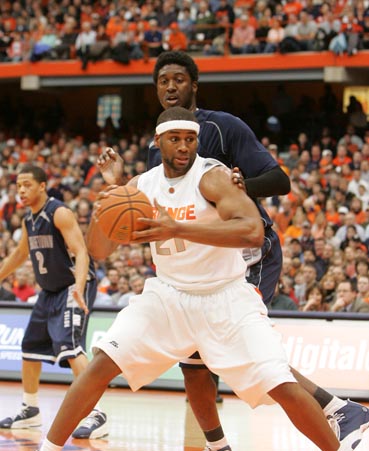 Onuaku was of Nigerian descent, but born in the United states. He played two years at Episcopal High School, after transferring from Duval High School, where he was relatively unknown.
His freshman year, he played in most every game as a backup to Darryl Watkins and Terrence Roberts, typically seeing seven to eight minutes a game. Onuaku was a raw talent his freshman year, with tremendous rebounding skills, and a high shooting percentage due to mostly scoring on dunks. He was also foul prone, and would pick up penalties very quickly. He would hurt his toe in December, and would miss some action as a result.
Onuaku would hurt his left knee over the summer, and have surgery on it early in the fall. He would end up missing the entire 2006-07 season, red shirting to recuperate.
Onuaku would be a pleasant surprise for the Orange his sophomore season. He was fully recovered from his knee surgery and showed the team he was capable of being a low post scoring threat. He showed the ability to be light on his feet despite being a very large player. His field goal shooting was nearly 63% a game, and he became a solid rebounder with several double digit games. Onuaku played very well against some of the best big name players in the country, both offensively and defensively. Unfortunately, he would also disappear in other games against lessor opponents, and have no impact in those games. He was also a terrible liability at the free throw line shooting a woeful 44.5%.
Onuaku returned for his junior season after a hard summer workout, a little bit heavier but with a lot more muscle, and less fat. He was looking to make more of an impact on this inside game for Syracuse, and he did. He would set a school record making 66.7% of his field goal attempts. Unfortunately he would see a reduction in playing time, which impacted his overall effectiveness. His free throw shooting digressed over the course of the season, and by the season's end he had shot only 29.8% from the charity stripe. This forced coach Jim Boeheim to keep him on the bench during close games, as he was a liability who would be quickly fouled by the opposition.
Onuaku would come back for his senior season with his legs in good shape. He was even more effective on the inside than the previous year, breaking his own record shooting 66.8% from the floor. He and Rick Jackson provided Syracuse an excellent one-two combination inside that helped guide the Orange to a 28-3 regular season. Onuaku's minutes were down as coach Jim Boeheim worked to keep him fresh, and cycled the big men effectively. Onuaku's greatest asset his senior year was his inside defensive play, working very effectively at keeping opposing big men out of the paint.
Onuaku's season would unfortunately come to a premature end when he injured his quadriceps in the first round lost to Georgetown in the Big East Tournament. There was hope that he would return for the NCAA tournament, but as each game passed by without him even practicing, it became less likely, and when the Orange lost to Butler in the Sweet Sixteen, Onuaku's collegiate career was done.
He did reach the 1,000 point club at Syracuse, and finished his career as the all time best field goal shooter for Syracuse (64.8%) and the all time worst free throw shooter for the Orange (39.5%).
Onuaku would go undrafted in the 2010 NBA draft. He rehabilitated his quadriceps and played in Lithuania and for the Canton Charge of the NBDL. He would make his NBA debut in 2013 with the New Orleans Pelicans. He would only get into three games with the Pelicans. Later in the year, he was called up by the Cleveland Cavaliers and would play a couple of games there. He would play 6 games for the Minnesota Timberwolves at the end of the 2014-2015 season.
NBA Career Statistics

| Season | Pos | G | Min | FG | FGA | % | FT | FTA | % | 3FGA | 3FGM | % | Asst | Reb | Fls | DQ | TO | ST | BS | Pts | PPG | APG | RPG |
| --- | --- | --- | --- | --- | --- | --- | --- | --- | --- | --- | --- | --- | --- | --- | --- | --- | --- | --- | --- | --- | --- | --- | --- |
| 2013-14 | F | 5 | 30 | 1 | 5 | 20.0% | 1 | 2 | 50.0% | 0 | 0 | --- | 3 | 8 | 3 | | 1 | 0 | 0 | 3 | 0.6 | 0.6 | 1.6 |
| 2014-15 | F | 6 | 68 | 12 | 14 | 85.7% | 3 | 8 | 37.5% | 0 | 0 | --- | 4 | 21 | 6 | | 2 | 1 | 3 | 27 | 4.5 | 0.7 | 3.5 |
| Total | F | 11 | 98 | 13 | 19 | 68.4% | 4 | 10 | 40.0% | 0 | 0 | --- | 7 | 29 | 9 | - | 3 | 1 | 3 | 30 | 2.7 | 0.6 | 2.6 |
© RLYoung 2006-2010, 2013, 2014, 2015