| | |
| --- | --- |
| HS: West Genesee | Syracuse, NY |
| | |
| --- | --- |
| Born: 8/1997 | Syracuse, NY |
Season Stats

| Season | Cl | Pos | G | GS | Min | FG | FGA | % | FT | FTA | % | 3Pt | 3PA | % | Asst | Reb | DReb | OReb | Fls | DQ | TO | ST | BS | Pts | PPG | APG | RPG |
| --- | --- | --- | --- | --- | --- | --- | --- | --- | --- | --- | --- | --- | --- | --- | --- | --- | --- | --- | --- | --- | --- | --- | --- | --- | --- | --- | --- |
| 2019-20 | Jr | G | 5 | 0 | 6 | 0 | 0 | | 0 | 0 | | 0 | 0 | | 3 | 0 | 0 | 0 | 0 | 0 | 1 | 0 | 0 | 0 | 0.0 | 0.6 | 0.0 |
| 2020-21 | Sr | G | 1 | 0 | 1 | 0 | 0 | | 0 | 0 | | 0 | 0 | | 0 | 0 | 0 | 0 | 0 | 0 | 0 | 0 | 0 | 0 | 0.0 | 0.0 | 0.0 |
| 2021-22 | Gr | G | 5 | 0 | 6 | 3 | 6 | | 0 | 0 | | 0 | 0 | | 2 | 1 | 0 | 1 | 0 | 0 | 1 | 1 | 0 | 6 | 1.2 | 0.4 | 0.2 |
| Career | | | 11 | 0 | 13 | 3 | 6 | --- | 0 | 0 | --- | 0 | 0 | --- | 5 | 1 | 0 | 1 | 0 | 0 | 2 | 1 | 0 | 6 | 0.5 | 0.5 | 0.1 |
Chris LaValle was a walk-on guard for Syracuse basketball. He previously played junior varsity basketball at St. John Fisher College in Rochester, NY.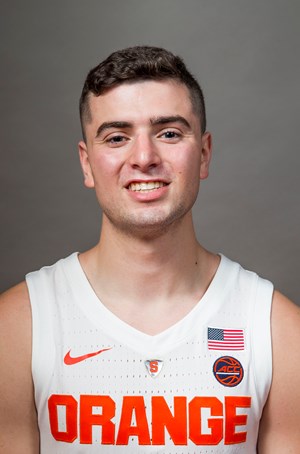 LaValle would play in five games his junior season, failing to score in any of them. He would have two assists in a lopsided win over Bucknell. He would play in one game his senior year, again failing to score. LaValle would play in five games as a graduate student and score six points. The highlight was a circus style shot he made at the end of the Brown game in a lopside 93-62 win.
LaValle's mother was Kelly LaValle-Seubert, the long time administrative assistant to head coach Jim Boeheim. She tragically passed away due to cancer in 2017, and the school named the players' lounge after her [1].
© RLYoung 2019, 2020, 2021
[1] Syracuse.com , Chris Carlson, 7/23/2019