| | |
| --- | --- |
| HS: Lower Merion | Ardmore, PA |
| | |
| --- | --- |
| Born: 12/21/1995 | Ardmore, PA |
Season Stats

| Season | Cl | Pos | G | GS | Min | FG | FGA | % | FT | FTA | % | 3Pt | 3PA | % | Asst | Reb | DReb | OReb | Fls | DQ | TO | ST | BS | Pts | PPG | APG | RPG |
| --- | --- | --- | --- | --- | --- | --- | --- | --- | --- | --- | --- | --- | --- | --- | --- | --- | --- | --- | --- | --- | --- | --- | --- | --- | --- | --- | --- |
| 2013-14 | Fr | F | 10 | 0 | 55 | 6 | 24 | | 0 | 0 | | 2 | 16 | | 2 | 9 | 6 | 3 | 6 | 0 | 4 | 1 | 3 | 14 | 1.4 | 0.2 | 0.9 |
| 2014-15 | So | F | 25 | 4 | 366 | 35 | 114 | | 18 | 25 | 72.0% | 16 | 61 | 26.2% | 12 | 79 | 53 | 26 | 26 | 0 | 17 | 14 | 5 | 104 | 4.2 | 0.5 | 3.2 |
| Career | | | 35 | 4 | 421 | 41 | 138 | 29.7% | 18 | 25 | 72.0% | 18 | 77 | 23.3% | 14 | 88 | 59 | 29 | 32 | 0 | 21 | 15 | 8 | 118 | 3.4 | 0.4 | 2.5 |
B.J. Johnson was a forward at Syracuse University for two seasons. He had a reputation of being a nice perimeter shooter, but never quite displayed that for the Orange.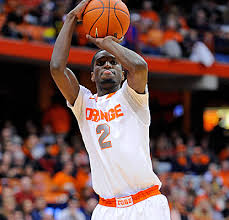 Johnson did not see much playing time as a freshman, sitting behind several upper classmen forwards and classmate Tyler Roberson. He did score 7 points in his first game against Cornell. That would be half of his scoring total for the season.
Johnson would play in more games his sophomore season, but struggled to find his shooting touch. Early in the season he would see a lot of playing time and would start three games when Tyler Roberson was hurt, but as his shooting continued to struggle he would see less time. He did have his best game of the season against Notre Dame, scoring 19 points leading the Orange to an upset win over #9 Notre Dame.
After his sophomore season, Johnson announced he was transferring to LaSalle, in his hometown of Philadelphia.
LaSalle Statistics

| Season | Cl | Pos | G | GS | Min | FG | FGA | % | FT | FTA | % | 3Pt | 3PA | % | Asst | Reb | DReb | OReb | Fls | DQ | TO | ST | BS | Pts | PPG | APG | RPG |
| --- | --- | --- | --- | --- | --- | --- | --- | --- | --- | --- | --- | --- | --- | --- | --- | --- | --- | --- | --- | --- | --- | --- | --- | --- | --- | --- | --- |
| 2016-17 | Jr | G | 29 | - | 945 | 168 | 374 | 44.9% | 109 | 130 | 83.8% | 64 | 177 | 36.2% | 28 | 183 | --- | --- | 71 | 0 | 68 | 33 | 14 | 509 | 17.6 | 1.0 | 6.3 |
| Career | | | 29 | 0 | 945 | 168 | 374 | 44.9% | 109 | 130 | 83.8% | 64 | 177 | 36.2% | 28 | 183 | --- | --- | 71 | 0 | 68 | 33 | 14 | 509 | 17.6 | 1.0 | 6.3 |
© RLYoung 2013, 2014, 2015, 2017