| | |
| --- | --- |
| HS: Jamesville-Dewitt | Jamesville, NY |
| | |
| --- | --- |
| Born: 11/2/1986 | Syracuse, NY |
Season Stats

| Season | Cl | Pos | G | GS | Min | FG | FGA | % | FT | FTA | % | 3Pt | 3PA | % | Asst | Reb | DReb | OReb | Fls | DQ | TO | ST | BS | Pts | PPG | APG | RPG |
| --- | --- | --- | --- | --- | --- | --- | --- | --- | --- | --- | --- | --- | --- | --- | --- | --- | --- | --- | --- | --- | --- | --- | --- | --- | --- | --- | --- |
| | Fr | G | 20 | 0 | 159 | 20 | 53 | 37.7% | 3 | 6 | 50.0% | 15 | 46 | 32.6% | 13 | 17 | 12 | 5 | 23 | 0 | 4 | 6 | 2 | 58 | 2.9 | 0.7 | 0.9 |
| | So | G | 35 | 20 | 741 | 84 | 226 | 37.2% | 17 | 24 | 70.8% | 67 | 188 | 35.6% | 51 | 69 | 54 | 15 | 62 | 0 | 46 | 45 | 6 | 252 | 7.2 | 1.5 | 2.0 |
| | | DNP | 0 | 0 | 0 | 0 | 0 | | 0 | 0 | | 0 | 0 | | 0 | 0 | 0 | 0 | 0 | 0 | 0 | 0 | 0 | 0 | --- | --- | --- |
| | Jr | G/F | 37 | 10 | 1059 | 126 | 332 | 38.0% | 33 | 45 | 73.3% | 102 | 279 | 36.6% | 112 | 123 | 110 | 13 | 75 | 2 | 73 | 52 | 6 | 387 | 10.5 | 3.0 | 3.3 |
| 2009-10 | Sr | G | 35 | 35 | 1137 | 130 | 297 | | 66 | 81 | | 98 | 241 | | 171 | 118 | 100 | 18 | 76 | 2 | 98 | 69 | 8 | 424 | | | |
| Career | | | 127 | 65 | 3096 | 360 | 908 | 39.6% | 119 | 156 | 76.3% | 282 | 754 | 37.4% | 347 | 327 | 276 | 51 | 233 | 4 | 221 | 173 | 22 | 1121 | 8.8 | 2.7 | 2.6 |
Andy Rautins was a smooth shooting big guard with excellent all around basketball skills. He developed from a lightly recruited high school player to one of the top players on the team and its unquestioned leader.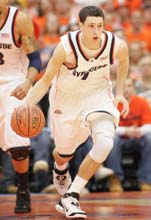 Rautins was not highly recruited out of high school, deemed by many to be too small and slow for Division I. He was the son of Leo Rautins, legendary player of the early '80s who had also played for coach Jim Boeheim. As a junior in high school, he led Jamesville-Dewitt to a New York State Class A state championship with a 29-0 record. Because his father was Canadian, he had dual citizenship. He was named to the Canada World University Games squad after high school.
As a freshman, Rautins displayed strong basketball awareness, and had a nice shooting touch. However, he was lacking strength and he did not play as much as his classmates, sitting behind senior Gerry McNamara (who rarely was out of the game), fellow freshman Eric Devendorf and sophomore Josh Wright. He did play fifteen minutes versus South Florida, scoring 10 points on 3-5 shooting from three point range.
Rautins started his sophomore season as the designated perimeter shooter coming off the bench when the game situation demanded it. He struggled in that role, finding it difficult to get his perimeter touch going. In early December, Eric Devendorf was struggling with some off the court issues, and the Orange offense was struggling. Boeheim inserted Rautins into the starting lineup, and the offense started to flow a little better with the presence of an additional perimeter shooter on the court (joining Demetris Nichols who was becoming a star). Rautins was still struggling to find a consistent scoring touch, though he was showing a sound ability to play the zone defense well.
Syracuse was struggling to get wins and needed to play well down the stretch, and Rautins was suddenly hot from the perimeter. Starting in a loss against Notre Dame, he would shoot 54% from three point range over an eight game period, hitting 29 of 54 three point attempts. Rautins made a strong case to return as a starter his junior season.
Rautins made the Canadian national team the summer after his sophomore year, and was playing for his father who was the head coach. Against Brazil in the Tournament of Americas, Rautins would injure his knee, tearing the ACL in his left knee, and miss the entire 2007-08 season.
Rautins would work out hard while recuperating from his knee surgery. He would gain about twenty pounds, almost all of it in muscle, to help with is shooting range and his ability to play in the rugged Big East. He would start his junior season as the 6th man on the team, playing both the shooting guard and the small forward positions. Early in the season he was struggling with his outside shot, though he continued to earn playing time with his solid zone defense and sharp passing He would be inserted into the starting lineup for the Memphis game when Devendorf was suspended, and he played well. He would then get on a hot streak, and would carry the Orange over the next four games. During a period when the rest of the Orange were struggling to find their shot against Coppin State, Seton Hall, and South Florida, Rautins would average 23 points a game, shooting 20 of 34 from three point range (59%). This included a 29 point effort against Coppin State, where he made 9 three point shots (on 16 attempts).
Rautins would remain in the starting lineup until he hurt his knee in the Louisville game. He would miss the next game, and Devendorf would return to the starting lineup. Rautins would remain a reserve the rest of the season, but he played significant minutes. He had pin point sharp passing, and had become a legitimate three point threat for the Orange, finishing the season with 102 three point shots made (five short of Gerry McNamara's school record). In the regular season finale he made the game clinching shot on a beautiful pass from Flynn in the overtime period. In the epic six overtime Big East tournament game against Connecticut, Rautins would play 49 minutes, with six three point shots on twelve attempts.
Rautins continued to improve his basketball skills, again playing on the Canadian National Team the summer before his senior year. He became a very well rounded player, and as a fifth year senior he was the emotional team leader. His three point shooting accuracy and range continued to improve, and he hit over 40% of his long distance shots. Though he was a shooting guard, he would lead the team in assists, with many spectacular passes inside to Arinze Onuaku and Rick Jackson. He would also make a few turnovers each game that were baffling.
Rautins developed into an outstanding zone defender, and at 6'5", he was very adept at denying entry passes in the lane, and in stealing the ball at the top of the key, which led to fast break opportunities for the Orange. Rautins was an outstanding team player, and was unselfish with the ball. The Orange as a result played outstanding team oriented basketball, which allowed the Orange to win the Big East Regular Season title, rising as high as #1 in the basketball polls and finishing the regular season at 28-3. He would earn Big East 2nd Team honors, AP Honorable Mention, and the Sporting News Fifth Team All-American. At the end of his career, he was the 2nd leading three point shooter in Syracuse history, behind Gerry McNamara.
Rautins was drafted in the 2nd round of the 2010 NBA draft, with the 38th pick by the New York Knicks. He would make the squad his rookie year. He was traded to the Dallas Mavericks after his rookie year, and then cut by the team.
NBA Career Statistics

| Season | Team | Pos | G | Min | FG | FGA | % | FT | FTA | % | 3FGA | 3FGM | % | Asst | Reb | Fls | DQ | TO | ST | BS | Pts | PPG | APG | RPG |
| --- | --- | --- | --- | --- | --- | --- | --- | --- | --- | --- | --- | --- | --- | --- | --- | --- | --- | --- | --- | --- | --- | --- | --- | --- |
| 2010-11 | New York | G | 5 | 24 | 3 | 7 | 42.9% | 1 | 2 | 50.0% | 1 | 4 | 25.0% | 3 | 2 | 0 | 0 | 7 | 1 | 0 | 8 | 1.6 | 0.6 | 0.2 |
| Total | | G | 5 | 24 | 3 | 7 | 42.9% | 1 | 2 | 50.0% | 1 | 4 | 25.0% | 3 | 2 | 0 | 0 | 7 | 1 | 0 | 8 | 1.6 | 0.6 | 0.2 |
Rautins would play professionally overseas in Spain, Germany, Italy, Turkey, and Greece. [1]
© RLYoung 2006-2011, 2023
[1] Proballers.com, Andy Rautins Stats