| | |
| --- | --- |
| HS: Jamesville-DeWitt | DeWitt, NY |
Season Stats

| Season | Cl | Pos | G | GS | Min | FG | FGA | % | FT | FTA | % | 3Pt | 3PA | % | Asst | Reb | DReb | OReb | Fls | DQ | TO | ST | BS | Pts | PPG | APG | RPG |
| --- | --- | --- | --- | --- | --- | --- | --- | --- | --- | --- | --- | --- | --- | --- | --- | --- | --- | --- | --- | --- | --- | --- | --- | --- | --- | --- | --- |
| 2015-16 | Fr | G | 4 | 0 | 5 | 0 | 5 | | 2 | 2 | | 0 | 3 | | 0 | 0 | 0 | 0 | 1 | 0 | 2 | 1 | 0 | 2 | 0.4 | 0.0 | 0.0 |
| 2016-17 | So | G | 12 | 0 | 17 | 3 | 9 | 33.3% | 0 | 1 | 0.0% | 2 | 7 | | 0 | 3 | 3 | 0 | 1 | 0 | 0 | 2 | 0 | 8 | 0.7 | 0.0 | 0.3 |
| 2017-18 | Jr | G | 3 | 0 | 2 | 0 | 1 | 0.0% | 0 | 0 | - | 0 | 1 | | 0 | 0 | 0 | 0 | 0 | 0 | 0 | 0 | 0 | 0 | 0.0 | 0.0 | 0.0 |
| Career | | | 19 | 0 | 24 | 3 | 15 | 20.0% | 2 | 3 | 66.7% | 2 | 11 | 18.2% | 0 | 3 | 3 | 0 | 2 | 0 | 2 | 3 | 0 | 10 | 0.5 | 0.0 | 0.2 |
Adrian Autry is a walk-on guard for Syracuse basketball.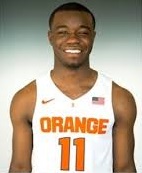 Autry would play in four games his freshman year, scoring two points against Cornell. He would score eight points his sophomore year in twelve games, including two three point shots. He would play in three games his junior year, failing to score in any.
Autry is the son of current Syracuse assistant coach and former point guard Adrian 'Red' Autry.
© RLYoung 2015, 2016, 2017, 2018