| | | |
| --- | --- | --- |
| 6'7" | 200 lbs | Guard/Forward |
| | |
| --- | --- |
| HS: Christ the King | Queens, NY |
Season Stats

| Season | Cl | Pos | G | GS | Min | FG | FGA | % | FT | FTA | % | 3Pt | 3PA | % | Asst | Reb | DReb | OReb | Fls | DQ | TO | ST | BS | Pts | PPG | APG | RPG |
| --- | --- | --- | --- | --- | --- | --- | --- | --- | --- | --- | --- | --- | --- | --- | --- | --- | --- | --- | --- | --- | --- | --- | --- | --- | --- | --- | --- |
| 1995-96 | Jr | G/F | 37 | 24 | 870 | 103 | 269 | 38.3% | 38 | 57 | 66.7% | 40 | 129 | 31.0% | 50 | 72 | 55 | 17 | 50 | 1 | 46 | 37 | 5 | 284 | 7.7 | 1.4 | 2.0 |
| 1996-97 | Sr | G/F | 32 | 32 | 1068 | 153 | 381 | 40.2% | 51 | 60 | 85.0% | 65 | 172 | 37.8% | 88 | 112 | 83 | 29 | 50 | 0 | 59 | 48 | 9 | 422 | 13.2 | 2.8 | 3.5 |
| Career | | | 69 | 56 | 1938 | 256 | 650 | 39.4% | 89 | 117 | 76.1% | 105 | 301 | 34.9% | 138 | 184 | 138 | 46 | 100 | 1 | 105 | 85 | 14 | 706 | 10.2 | 2.0 | 2.7 |
Jason Cipolla was a guard and forward for Syracuse basketball for two seasons. He was a hard nosed player with a nice shooting touch.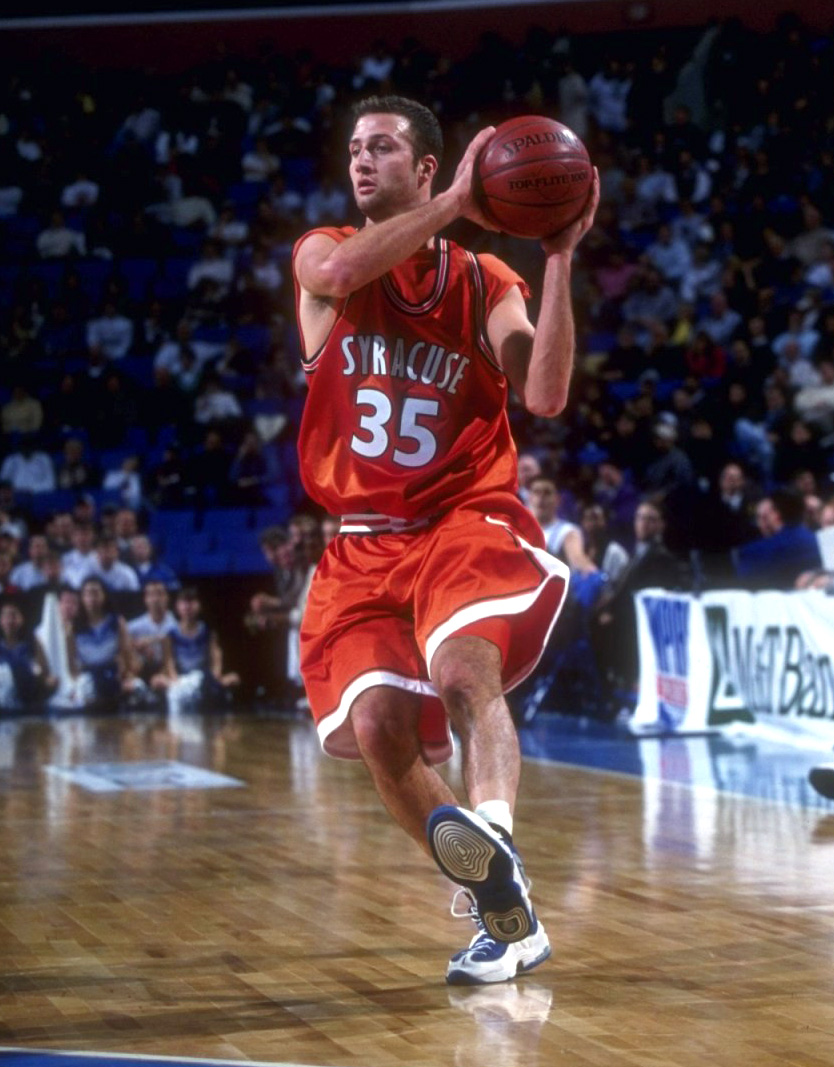 Cipolla originally attended Tallahassee Community College in Florida. He would transfer to Syracuse for the 1995-1996 season. He averaged 24 points, 7 rebounds and 5 assists a game his last year at Tallahassee.
Cipolla would team up with sophomore Marius Janulis to form a double perimeter shooting threat. Cipolla would injure his heal early in the season and Janulis would take his starting position. While Janulis was the better shooter, Cipolla was still a very good shooter, and a much better defender and rebounder, and as the situations in the game dictated so did their playing time.
Cipolla would hit one of the most memorable shots in Syracuse history in the NCAA tournament that year. In the Sweet Sixteen Syracuse trailed Georgia by two as time was running out. John Wallace brought the ball down court and was trying to get a good shot, but found he was too heavily guarded. He spotted Cipolla and passed him the ball. Cipolla launched a 16 footer as he fell out of bounds; the ball went into the basket as time expired, and the game went into overtime. The Orangemen would pull out the overtime victory to advance in the tournament and eventually made it all the way to the NCAA Finals before bowing to Kentucky.
Cipolla would start every game his senior season, and finish as the team's third top scorer. His three point shooting improved to 37% and he was a formidable perimeter threat. He would earn honors on the All Big East Third team.
Cipolla would play professionally in France and Japan following graduation from Syracuse. After his basketball career ended, he joined the Teamsters Union and worked on the set of The Sopranos, where he and actress Lorrainne Bracco would meet and have a long term publicized relationship.
© RLYoung 2009