| | | |
| --- | --- | --- |
| 6'8" | 235 lbs | Forward/Center |
Season Stats

| Season | Cl | Pos | G | GS | FG | FGA | % | FT | FTA | % | Reb | Fls | DQ | Pts | PPG | RPG |
| --- | --- | --- | --- | --- | --- | --- | --- | --- | --- | --- | --- | --- | --- | --- | --- | --- |
| 1964-65 | So | F/C | 5 | | 7 | 12 | 58.3% | 3 | 4 | 75.0%. | 13 | 9 | 0 | 17 | 2.8 | 2.2 |
| Career | | | 5 | 0 | 7 | 12 | 58.3% | 3 | 4 | 75.0% | 13 | 9 | 0 | 17 | 2.8 | 2.2 |
Scott Loll was a reserve for Syracuse varsity basketball for one season. He was a solid front line player on the freshman team. On the varsity squad, Loll would play only five games his sophomore season. Loll did have the distinction of scoring the basket in the American University game on the season tip off, December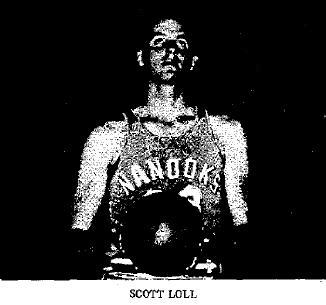 2, 1964, that would break the then Syracuse single game scoring record (since broken).
Loll would leave the team after his sophomore season, after his family moved to Nome, Alaska. He would enroll at the University of Alaska, and play basketball for the Nanooks. Loll was an aggressive player, and at 6'8" was significantly bigger than most of the basketball players that Alaska would play. He would set a school record for single game rebounds (36) and points (37) against Simon Frasier University, January 22, 1967.[1]
Loll would lead the team in rebounding and scoring his junior season, 1966-1967, with 382 rebounds (18.1 rpg), and 397 points (18.9 ppg). He would lead the team in scoring again his senior season, 1967-1968, with 299 rebounds (13.0 rpg) and was second in scoring with 369 points (16.0 ppg). He would finish his career at Alaska with 681 rebounds and 766 points.
He would graduate from the University of Alaska, and work in a career of media, public and sports relations. He was the sports editor for the Anchorage Daily News for a while in the early 1970s. He also coached the University of Alaska-Anchorage basketball team for a few seasons.
©RLYoung 2009, 2017
[1] Fairbanks Daily News Miner, January 23, 1967. Scoring record later broken.