| | |
| --- | --- |
| HS: Christian Brothers Academy | Lincroft, NJ |
Season Stats

| Season | Cl | Pos | G | GS | Min | FG | FGA | % | FT | FTA | % | 3Pt | 3PA | % | Asst | Reb | DReb | OReb | Fls | DQ | TO | ST | BS | Pts | PPG | APG | RPG |
| --- | --- | --- | --- | --- | --- | --- | --- | --- | --- | --- | --- | --- | --- | --- | --- | --- | --- | --- | --- | --- | --- | --- | --- | --- | --- | --- | --- |
| 2015-16 | Fr | G | 3 | 0 | 4 | 0 | 1 | 0% | 0 | 0 | | 0 | 0 | | 0 | 0 | 0 | 0 | 0 | 0 | 1 | 0 | 0 | 0 | 0.0 | 0.0 | 0.0 |
| 2016-17 | So | G | 12 | 0 | 18 | 1 | 5 | 20.0% | 0 | 0 | | 0 | 2 | | 2 | 0 | 0 | 0 | 0 | 0 | 2 | 0 | 0 | 2 | 0.2 | 0.2 | 0.0 |
| 2017-18 | Jr | G | 3 | 0 | 2 | 1 | 1 | 100% | 0 | 0 | | 0 | 0 | | 1 | 0 | 0 | 0 | 0 | 0 | 0 | 1 | 0 | 2 | 0.7 | 0.3 | 0.0 |
| 2018-19 | Sr | DNP | - | - | - | - | - | --- | - | - | | - | - | | - | - | - | - | - | - | - | - | - | - | 0.0 | 0.0 | 0.0 |
| 2019-20 | Gr | G | 9 | 0 | 12 | 0 | 2 | | 0 | 0 | | 0 | 0 | | 0 | 1 | 1 | 0 | 0 | 0 | 1 | 0 | 0 | 0 | 0.0 | 0.0 | 0.1 |
| Career | | | 27 | 0 | 36 | 2 | 9 | 22.2% | 0 | 0 | --- | 0 | 2 | 0.0% | 3 | 1 | 1 | 0 | 0 | 0 | 4 | 1 | 0 | 4 | 0.1 | 0.1 | 0.0 |
Shaun Belbey was a walk-on guard for Syracuse University basketball.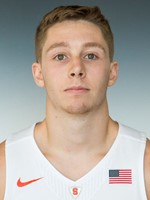 Belbey played in three games his freshman year, failing to score in any of them. He would play in twelve games his sophomore season and would score two points. He would play in three more games his junior year, scoring two points.
Belbey would redshirt his senior year. [1] Shaun's older brother Kevin was the team manager for Syracuse basketball from 2010 to 2013.
He would receive a scholarship for his fifth season. He would play in nine games, failing to score in an of them.
His brother Kevin formed Boeheim's Army for The Basketball Tournament (TBT), and Shaun was an assistant coach on the team. Boeheim's Army won the TBT in 2021.
© RLYoung 2015, 2016, 2017, 2018, 2019, 2020, 2021
[1] Syracuse.com 11/5/2018