| | |
| --- | --- |
| Born: May, 1896 | Williamsport, PA |
Season Stats

| Season | Cl | Pos | G | GS | FG | FGA | % | FT | FTA | % | Fls | DQ | Pts | PPG |
| --- | --- | --- | --- | --- | --- | --- | --- | --- | --- | --- | --- | --- | --- | --- |
| 1914-15 | So | G | 1 | 0 | 0 | 0 | --- | 0 | 0 | --- | | | 0 | 0.0 |
| 1915-16 | Jr | F/G | 3 | 0 | 0 | | | 0 | 0 | --- | | | 0 | 0.0 |
| 1916-17 | Sr | G | 1 | 0 | 0 | 0 | --- | 0 | 0 | --- | | | 0 | 0.0 |
| Career | | | 5 | 0 | 0 | 0 | 0.0 | 0 | 0 | 0.0 | 0 | 0 | 0 | 0.0 |
Ralph Keefer was a reserve on the Syracuse basketball team for three seasons, and would letter his senior season.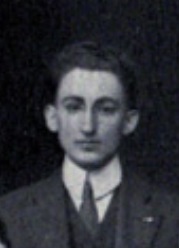 Keefer would graduate from Syracuse University with a degree in chemical engineering in 1917. He would be employed by ALCOA for 44 years, and retire as a vice president at the company.
Keefer would pass away in December 1967.
© RLYoung 2007, 2018