| | |
| --- | --- |
| HS: Choate Rosemary Hall | Wallingford, CT |
| HS: Fairfield Prep | Westbury, CT |
Season Stats

| Season | Cl | Pos | G | GS | Min | FG | FGA | % | FT | FTA | % | 3Pt | 3PA | % | Asst | Reb | DReb | OReb | Fls | DQ | TO | ST | BS | Pts | PPG | APG | RPG |
| --- | --- | --- | --- | --- | --- | --- | --- | --- | --- | --- | --- | --- | --- | --- | --- | --- | --- | --- | --- | --- | --- | --- | --- | --- | --- | --- | --- |
| 2016-17 | Fr | G | 3 | 0 | 4 | 1 | 1 | 100% | 0 | 0 | | 1 | 1 | | 0 | 0 | 0 | 0 | 0 | 0 | 0 | 0 | 0 | 2 | 1.0 | 0.0 | 0.0 |
| 2017-18 | So | G | 3 | 0 | 2 | 0 | 0 | - | 0 | 0 | - | 0 | 0 | | 1 | 0 | 0 | 0 | 0 | 0 | 0 | 0 | 0 | 0 | 0.0 | 0.3 | 0.0 |
| 2018-19 | Jr | G | 3 | 0 | 2 | 0 | 0 | - | 0 | 0 | - | 0 | 0 | | 1 | 0 | 0 | 0 | 0 | 0 | 0 | 0 | 0 | 0 | 0.0 | 0.3 | 0.0 |
| Career | | | 9 | 0 | 8 | 1 | 1 | 100% | 0 | 0 | --- | 1 | 1 | 100% | 2 | 0 | 0 | 0 | 0 | 0 | 0 | 0 | 0 | 2 | 0.2 | 0.2 | 0.0 |
Ray Featherston was a walk-on guard for Syracuse basketball for three seasons.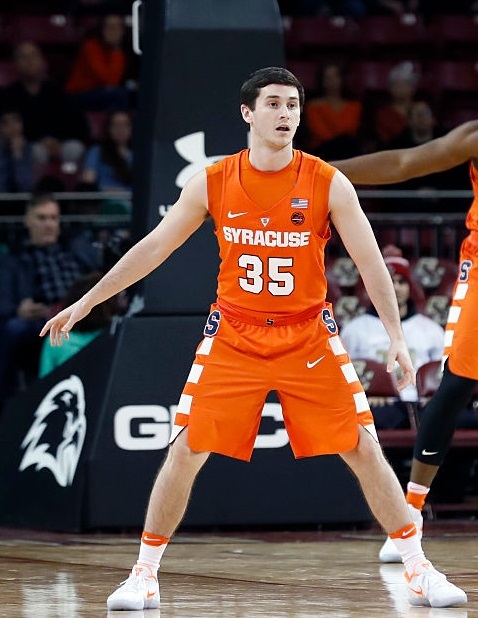 Featherston would play in three games his freshman season, totaling three points by making one three point shot. He would play three more games in each his sophomore and junior seasons, failing to score in any of those.
Featherson's family was the host family to Syracuse center Paschal Chukwu when Chukwu attended high school in the United States. Chukwu and Featherson were teammates at Fairfield Prep.
© RLYoung 2016, 2017, 2018, 2019