| | |
| --- | --- |
| HS: Neshaminy | Penndel, PA |
Season Stats

| Season | Cl | Pos | G | GS | FG | FGA | % | FT | FTA | % | Asst | Reb | Fls | DQ | Pts | PPG | APG | RPG |
| --- | --- | --- | --- | --- | --- | --- | --- | --- | --- | --- | --- | --- | --- | --- | --- | --- | --- | --- |
| 1965-66 | So | G | 24 | 0 | 60 | 137 | 43.8% | 41 | 50 | 82.0% | 54 | 45 | 35 | - | 161 | 6.7 | 2.3 | 1.9 |
| 1966-67 | Jr | G | 26 | 26 | 140 | 343 | 40.8% | 103 | 117 | 88.0% | - | 87 | 55 | - | 383 | 14.7 | 0.0 | 3.3 |
| 1967-68 | Sr | G | 25 | 25 | 104 | 225 | 46.2% | 73 | 85 | 85.9% | - | 91 | 54 | - | 281 | 11.2 | 0.0 | 3.6 |
| Career | | | 75 | 51 | 304 | 705 | 43.1% | 217 | 252 | 86.1% | +54 | 223 | 144 | 0 | 825 | 11.0 | 0.0 | 3.0 |
Richie Cornwall was a solid perimeter shooting guard with steady ball handling skills. The "Little General" was adept at running the full court press and the fast break, and fit well into Coach Lewis' basketball scheme. Cornwall was one of the best free throw shooters in Syracuse basketball history, with a career percentage of 86%. He had terrific range on his jump shot.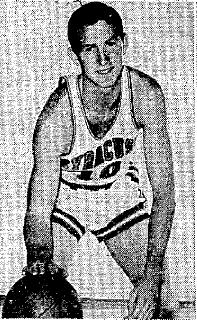 As a sophomore, Cornwall was a reserve, though part of the rotation of players that Lewis played regularly. He earned a starting role his junior season, and would start every game that year and his senior season. As a junior he would shoot a blistering 88% from the free throw line, and average nearly 15 points a game, as the Orangemen continued their postseason run and made it to the NIT. Cornwall was named the team captain his senior season. He had a steady season that year, in what was a poor year for the team.
When Cornwall finished he would hold the Syracuse career free throw shooting record (since broken by Gerry McNamara) and the single season free throw shooting record (since broken by Jimmy Lee and McNamara).
Cornwall was Rookie of the Year in the Eastern Basketball League for Binghamton in 1969. He would score 5,260 points in his EBL career. The EBL would experiment with a 28-foot three point line, and Cornwall was one of the better players in the league. He would make 11 three point shots in one game. [1]
He would also play in a Dutch league in Holland in 1975, and lead the league in assists.
Cornwall would later teach and coach at Trenton Junior College, Trenton High School and Langhorn High.
Cornwall passed away in 2021.
© RLYoung 2006, 2007, 2015, 2021
[1] Syracuse Post Standard, December 11, 1993