| | |
| --- | --- |
| HS: Thetford Academy | Thetford Mines, QC |
| | |
| --- | --- |
| Born: 5/13/1999 | Montreal, QC |
Season Stats

| Season | Cl | Pos | G | GS | Min | FG | FGA | % | FT | FTA | % | 3Pt | 3PA | % | Asst | Reb | DReb | OReb | Fls | DQ | TO | ST | BS | Pts | PPG | APG | RPG |
| --- | --- | --- | --- | --- | --- | --- | --- | --- | --- | --- | --- | --- | --- | --- | --- | --- | --- | --- | --- | --- | --- | --- | --- | --- | --- | --- | --- |
| 2019-20 | Fr | F | 32 | 0 | 651 | 77 | 155 | | 63 | 104 | | 3 | 24 | | 19 | 170 | 113 | 57 | 83 | 3 | 43 | 15 | 25 | 220 | 6.9 | 0.6 | 5.3 |
| 2020-21 | So | F | 28 | 28 | 931 | 146 | 296 | | 68 | 101 | | 23 | 74 | | 23 | 236 | 159 | 77 | 78 | 4 | 30 | 23 | 32 | 283 | 13.7 | 0.8 | 8.4 |
| Career | | | 60 | 28 | 1582 | 223 | 451 | 49.4% | 131 | 205 | 63.9% | 26 | 98 | 26.5% | 42 | 406 | 272 | 134 | 161 | 7 | 73 | 38 | 57 | 503 | 8.4 | 0.7 | 6.8 |
Quincy Guerrier was a forward for Syracuse basketball. He was an aggressive rebounder who preferred to play on the perimeter.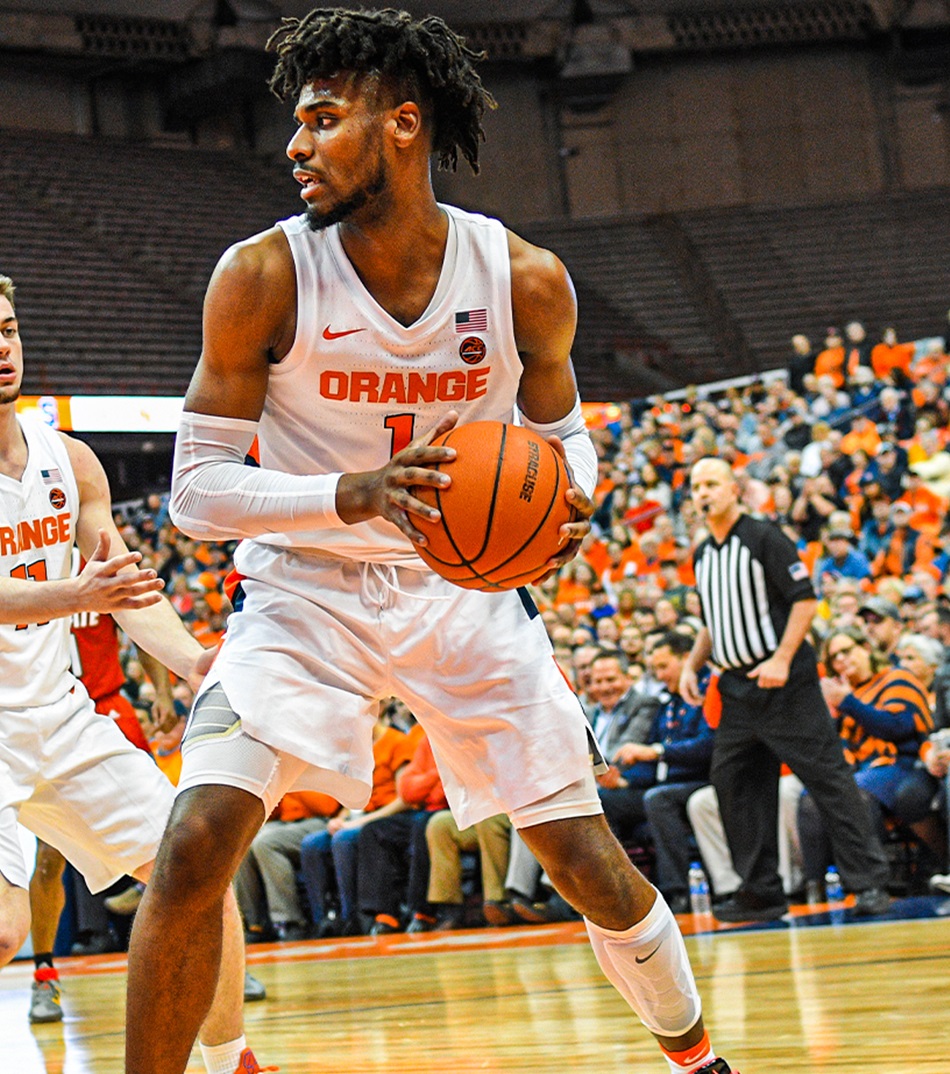 Guerrier displayed tremendous raw talent his freshman season, but struggled to find his place both offensively and defensively. He was the top reserve off the bench all season, and displayed a terrific ability to rebound. He would batter foul trouble most of the season, which would also hamper his playing time. He had big games in losses to Louisville and North Carolina State. In the former he had 14 points and 12 rebounds, and in the latter he had 16 points and 10 rebounds playing significant time for an injured Elijah Hughes. It was announced in the off season that he had injured his groin during the season, and he had surgery in June.[1]
Guerrier became the Orange's primary inside scorer his sophomore season. He had several big rebounding games, particularly earlier in the season, and was adept at scoring inside making 62% of his two point shots. Guerrier also improved the consistency on his perimeter shooting, providing a little more balance to the offense. He would have a career high 27 points, along with 11 rebounds in a win over Buffalo. Guerrier had ten rebounds in the second half of the Notre Dame game, helping the Orange to overcome a twenty point deficit. He would finish the season leading the team in rebounding with nine games of 10+ rebounds, and earned Third Team ACC Honors.
Guerrier would transfer to Oregon after his sophomore season.
Oregon

| Season | Cl | Pos | G | GS | Min | FG | FGA | % | FT | FTA | % | 3Pt | 3PA | % | Asst | Reb | DReb | OReb | Fls | DQ | TO | ST | BS | Pts | PPG | APG | RPG |
| --- | --- | --- | --- | --- | --- | --- | --- | --- | --- | --- | --- | --- | --- | --- | --- | --- | --- | --- | --- | --- | --- | --- | --- | --- | --- | --- | --- |
| 2021-22 | Jr | F | 35 | 35 | 926 | 120 | 86 | 42.0% | 61 | 95 | 64.2% | 52 | 159 | 32.7% | 27 | 184 | 125 | 59 | 80 | - | 42 | 26 | 11 | 353 | 10.1 | 0.8 | 5.3 |
| Career | | | 35 | 35 | 926 | 120 | 86 | 42.0% | 61 | 95 | 64.2% | 52 | 159 | 32.7% | 27 | 184 | 125 | 59 | 80 | 0 | 42 | 26 | 11 | 353 | 10.1 | 0.8 | 5.3 |
© RLYoung 2019, 2020, 2021, 2022
[1] Syracuse.com, Mike Waters 6/3/2020