| | |
| --- | --- |
| Born: 6/28/1904 | Trenton, NJ |
Season Stats

| Season | Cl | Pos | G | GS | FG | FGA | % | FT | FTA | % | Fls | DQ | Pts | PPG |
| --- | --- | --- | --- | --- | --- | --- | --- | --- | --- | --- | --- | --- | --- | --- |
| 1925-26 | So | F | 1 | 0 | 0 | - | | 0 | - | | - | - | 0 | 0.0 |
| Career | | | 1 | 0 | 0 | 0 | 0.0 | 0 | 0 | 0.0 | 0 | 0 | 0 | 0.0 |
Mickey Maister was an outstanding athlete, who played forward for the Syracuse basketball team for half a season before being academically ineligible.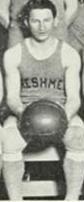 As a freshman, Maister played for three freshman teams: football, basketball, and baseball, and was being compared by many as the next Vic Hanson. Maister started at halfback in football, was the freshman captain and forward in basketball and played second base in baseball. He was the captain for the freshman basketball team.
Midway through his sophomore football season, he became the starting fullback, sharing backfield duties with Gotch Carr. Maister would letter in football that season.
Maister was a valuable reserve forward on the basketball team, and close to mid-season he earned a starting berth in the lineup. However, before he was able to start any games, he was declared academically ineligible, and missed the rest of the basketball season. Maister never regained his academic standing at Syracuse.
He would transfer to William & Mary and play basketball there for one season. He would play professional basketball for Philadelphia in the American Basketball League (1927-1928) and Pattison in the Eastern Basketball League (1928-1931).
Mike's young brother Elmer was a star guard on the basketball team in the early 1930's. Maister passed away in 1994.
© RLYoung 2006, 2007, 2011, 2016