| | |
| --- | --- |
| HS: Turner Carroll | Buffalo NY |
Season Stats

| Season | Cl | Pos | G | GS | Min | FG | FGA | % | FT | FTA | % | 3Pt | 3PA | % | Asst | Reb | DReb | OReb | Fls | DQ | TO | ST | BS | Pts | PPG | APG | RPG |
| --- | --- | --- | --- | --- | --- | --- | --- | --- | --- | --- | --- | --- | --- | --- | --- | --- | --- | --- | --- | --- | --- | --- | --- | --- | --- | --- | --- |
| 1997-98 | Fr | G | 15 | 0 | 77 | 7 | 20 | 35.0% | 4 | 7 | 57.1% | 1 | 9 | 11.1% | 8 | 13 | 10 | 3 | 9 | 0 | 6 | 3 | 5 | 19 | 1.3 | 0.5 | 0.9 |
| 1998-99 | So | G | 16 | 0 | 161 | 19 | 55 | 34.6% | 3 | 8 | 37.5% | 6 | 19 | 31.6% | 15 | 17 | 11 | 6 | 16 | 0 | 8 | 13 | 4 | 47 | 2.9 | 0.9 | 1.1 |
| Career | | | 31 | 0 | 238 | 26 | 75 | 34.7% | 7 | 15 | 46.7% | 7 | 28 | 25.0% | 23 | 30 | 21 | 9 | 25 | 0 | 14 | 17 | 9 | 66 | 2.1 | 0.7 | 1.0 |
Mailk Campbell played two seasons as a reserve guard for the Syracuse basketball team. He was a three year letterman in Syracuse football as a wide receiver. He was a talented athlete who was thought could excel at either sport in Division I.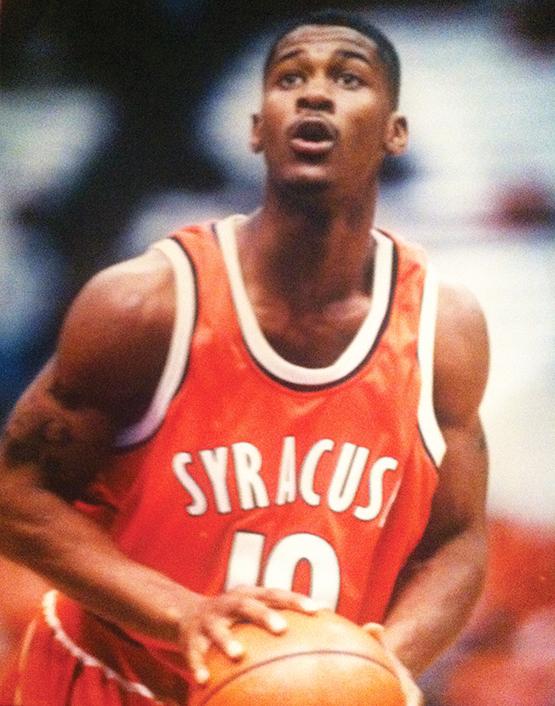 At Turner Carroll High School, Campbell had earned all-state honors his senior year in football and in basketball. He originally went to the University of Maryland to play quarterback, but had to sit out his freshman season because he was academically ineligible due to an NCAA ruling that he did not have enough credits to graduate high school; so instead he went to back to high school to finish his degree. He was orginally going to go to Maryland to play football, but after sitting out a year, he instead chose to come to Syracuse to play basketball after being recruited heavily by Louis Orr. [1]
He asked Syracuse football coach Paul Pasqualoni if he could join the football team his sophomore year as a quarterback.. He would spend his whole season holding the clipboard because of the talented Donovan McNabb at that same position. When he came back for his junior season, he realized how rusty his skills had become and he switched to wide receiver.
Meanwhile he was frustrated with his playing time in basketball, and quit the team after his sophomore year.
Following graduation from Syracuse where he earned a degree in social work, Campbell started coaching AAU basketball. In the fall of 2005, he became an assistant basketball coach at Buffalo State. He would coach for one season. He returned to Buffalo State in 2009-10 in his second tour of duty as an assistant coach.
Syracuse Football Stats

| Season | Cl | G | Rush Att | Yds | YPA | Rec Att | Yds | YPC | TDs | PR | AVG |
| --- | --- | --- | --- | --- | --- | --- | --- | --- | --- | --- | --- |
| 1999 | So | 11 | 1 | 27 | 27.0 | 19 | 308 | 16.2 | 0 | 2 | 4.0 |
| 2000 | Jr | 11 | - | - | - | 26 | 319 | 12.3 | 1 | 32 | 10.6 |
| 2001 | Sr | 12 | - | - | - | 14 | 184 | 13.1 | 1 | 1 | -2 |
| Career | | 34 | 1 | 27 | 27.0 | 59 | 811 | 13.7 | 2 | 35 | 9.8 |
© RLYoung 2005, 2017, 2019, 2021
[1] Buffalo Record, Feb 18, 2014