| | |
| --- | --- |
| HS: LaFayette | Buffalo, NY |
Season Stats

| Season | Cl | Pos | G | GS | FG | FGA | % | FT | FTA | % | Reb | Fls | DQ | Pts | PPG | RPG |
| --- | --- | --- | --- | --- | --- | --- | --- | --- | --- | --- | --- | --- | --- | --- | --- | --- |
| 1953-54 | So | G | 15 | 1 | - | - | --- | - | - | --- | - | - | - | 35 | 2.3 | |
| 1954-55 | Jr | G | 15 | 0 | 20 | - | --- | 6 | 18 | 33.3% | | 14 | | 46 | 3.1 | |
| 1955-56 | Sr | G | 10 | 0 | 1 | - | | 1 | 3 | 33.3% | | 6 | | 3 | 0.3 | |
| Career | | | 40 | 1 | +21 | --- | - | +7 | +21 | --- | - | +20 | - | 84 | 2.1 | 0.0 |
Lou Cegala was a diminuitive guard for Syracuse basketball for three seasons.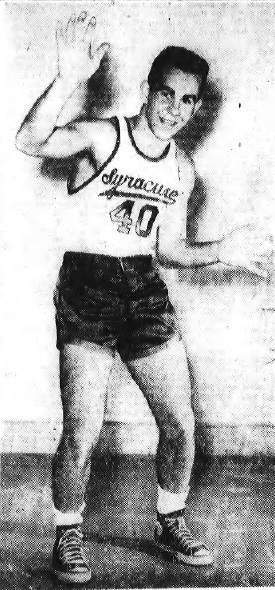 Cegala was a reserve all three years, though he did start a game against Canisius his sophomore year. Cegala played in about 2/3 of the games his first two seasons. His playing time dropped significantly his senior year.
Cegala passed away in 2003.
©RLYoung 2015, 2017, 2019