| | |
| --- | --- |
| HS: Agoura | Agoura Hills, CA |
Season Stats

| Season | Cl | Pos | G | GS | Min | FG | FGA | % | FT | FTA | % | 3Pt | 3PA | % | Asst | Reb | DReb | OReb | Fls | DQ | TO | ST | BS | Pts | PPG | APG | RPG |
| --- | --- | --- | --- | --- | --- | --- | --- | --- | --- | --- | --- | --- | --- | --- | --- | --- | --- | --- | --- | --- | --- | --- | --- | --- | --- | --- | --- |
| 2015-16 | Fr | G | 2 | 0 | 2 | 1 | 1 | 100% | 0 | 0 | | 0 | 0 | | 0 | 1 | 1 | 0 | 0 | 0 | 0 | 1 | 0 | 2 | 1.0 | 0.0 | 0.5 |
| 2016-17 | So | G | 9 | 0 | 14 | 2 | 6 | 33.3% | 0 | 0 | | 1 | 5 | | 2 | 2 | 1 | 1 | 0 | 0 | 0 | 0 | 0 | 5 | 0.6 | 0.2 | 0.2 |
| 2017-18 | Jr | DNP | - | - | - | - | - | | - | - | | - | - | | - | - | - | - | - | - | - | - | - | - | 0.0 | 0.0 | 0.0 |
| 2018-19 | Sr | G | 9 | 0 | 11 | 1 | 2 | | 0 | 0 | | 1 | 2 | | 0 | 2 | 2 | 0 | 0 | 0 | 0 | 0 | 0 | 3 | 0.3 | 0.0 | 0.2 |
| Career | | | 20 | 0 | 27 | 4 | 9 | 44.4% | 0 | 0 | --- | 2 | 7 | 28.6% | 2 | 5 | 4 | 1 | 0 | 0 | 0 | 1 | 0 | 10 | 0.5 | 0.1 | 0.4 |
Ky Feldman was a walk-on guard for Syracuse University basketball.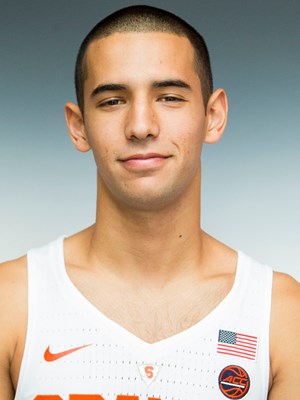 Feldman played in two games his freshman year. He would score two points in a 82-60 win over Montana State. He would play in nine games his sophomore season and would score five points.
Feldman was on the team his junior year, but did not play in any games. He played in nine games his senior year, and would make a three point shots giving him three total points on the season.
Feldman was born in Israel, but attended high school in Agoura Hills, California. His younger brother Shane was also a walk-on guard for Syracuse.
© RLYoung 2015, 2016, 2017, 2018, 2019, 2020