| | |
| --- | --- |
| HS: Dean Academy | New Bedford, MA |
| | |
| --- | --- |
| Born: 6/25/1887 | Richmond, ME |
Season Stats

| Season | Cl | Pos | G | GS | FG | FGA | % | FT | FTA | % | Fls | DQ | Pts | PPG |
| --- | --- | --- | --- | --- | --- | --- | --- | --- | --- | --- | --- | --- | --- | --- |
| 1908-09 | Jr | F | +7 | +3 | +5 | - | | - | - | | - | - | +10 | ~1.4 |
| Career | | | +7 | +3 | +5 | 0 | 0.0 | 0 | 0 | 0.0 | 0 | 0 | +10 | ~1.4 |
John 'Task' Tasker played one year of basketball for Syracuse. Tasker was considered a good all-around athlete. He played two seasons of baseball at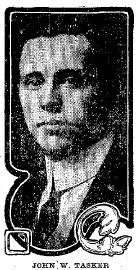 Syracuse, lettering in 1909.
Tasker made a strong impression in practice his junior season, and earned a starting forward position.
He was in his senior year of Law School in 1911 when he signed a contract to play professional baseball for Johnstown of the Tri-State league.
Tasker, then more well known as J. Wilder Tasker, would go on to a collegiate coaching career in football, basketball and baseball. He would coach football for fourteen seasons at Connecticut, William & Mary and Rutgers compiling a 66-52-11 record, leading Rutgers to four conference titles in the Middle Three Conference.
He coached men's basketball for seven seasons. He coached the Connecticut Aggies (now Huskies) for just over one season with a 15-5 record, and then William & Mary for five seasons with a 49-44 record. Overall his basketball coaching record was 64-59.
He would compile a 88-108-4 record as a collegiate baseball coach serving at Connecticut (1922-1923), William & Mary (1924-1928) and Rutgers (1932-1937).
Following his retirement from coaching in 1938, he would pursue a career in insurance. He would retire in 1964. [1]
Tasker passed away in 1974.
[Scoring in 1908-09 missing from 1 game, indicated by the +]
© RLYoung 2008, 2009, 2011, 2018
[1] New York Times obituary