| | |
| --- | --- |
| HS: Genesee Valley | Belmont, NY |
| | |
| --- | --- |
| Born: 2/22/1986 | Wellsville, NY |
Season Stats

| Season | Cl | Pos | G | GS | Min | FG | FGA | % | FT | FTA | % | 3Pt | 3PA | % | Asst | Reb | DReb | OReb | Fls | DQ | TO | ST | BS | Pts | PPG | APG | RPG |
| --- | --- | --- | --- | --- | --- | --- | --- | --- | --- | --- | --- | --- | --- | --- | --- | --- | --- | --- | --- | --- | --- | --- | --- | --- | --- | --- | --- |
| 2005-06 | So | G | | | | | | --- | | | 50.0% | | | --- | | | | | | | | | | | 0.3 | 0.3 | 0.3 |
| 2006-07 | Jr | G | | | | | | 0.0% | | | --- | | | --- | | | | | | | | | | | 0.0 | 0.0 | 0.3 |
| 2007-08 | Sr | G | | | | | | 0.0% | | | 50.0% | | | | | | | | | | | | | | 0.1 | 0.0 | 0.0 |
| | Gr | G | | | | | | 37.5% | 0 | 0 | | | | 37.5% | | | | | | | | | | | | | |
| Career | | | 30 | 0 | 47 | 3 | 12 | 25.0% | 2 | 4 | 50.0% | 3 | 10 | 30.0% | 2 | 3 | 0 | 3 | 3 | 0 | 4 | 2 | 0 | 11 | 0.4 | 0.1 | 0.1 |
Jake Presutti was a walk-on guard for Syracuse basketball for four seasons. He would earn a scholarship his senior season.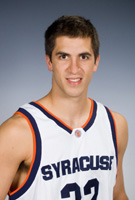 Presutti was the Genesee Valley High School athlete of the year his junior and senior year.
He was the student manager of the Syracuse basketball team his freshman season. Presutti would score two points in his first three seasons, both on free throws. He returned for a fourth season, as a graduate student. Syracuse would have more lopsided games that year, and Presutti would get the opportunity to play at the end of sixteen games. He was a crowd pleaser, and took all of his shots from three point range, making three out of eight attempts that year.
Presutti would get into basketball administration after graduating from Syracuse with a master's degree. He was an assistant in basketball operations for the Houston Rockets in the NBA. In 2011, he joined former Syracuse assistant coach Rob Murphy as the Director of Player Development for Eastern Michigan University [1]. He would be an assistant coach for Marquette from 2013 to 2021. [2]
© RLYoung 2006-2009, 2011, 2021
[1] Donna Dikota, Post-Standard, August 2, 2011.
[2] Mike Waters, Post-Standard, October 7, 2021