| | |
| --- | --- |
| Born: 12/3/1985 | Long Branch NJ |
Season Stats

| Season | Cl | Pos | G | GS | Min | FG | FGA | % | FT | FTA | % | 3Pt | 3PA | % | Asst | Reb | DReb | OReb | Fls | DQ | TO | ST | BS | Pts | PPG | APG | RPG |
| --- | --- | --- | --- | --- | --- | --- | --- | --- | --- | --- | --- | --- | --- | --- | --- | --- | --- | --- | --- | --- | --- | --- | --- | --- | --- | --- | --- |
| 2005-06 | Fr | G | 1 | 0 | 1 | 0 | 0 | --- | 0 | 0 | --- | 0 | 0 | --- | 0 | 1 | 1 | 0 | 0 | 0 | 2 | 0 | 0 | 0 | 0.0 | 0.0 | 0.0 |
| Career | | | 1 | 0 | 1 | 0 | 0 | --- | 0 | 0 | --- | 0 | 0 | --- | 0 | 1 | 1 | 0 | 0 | 0 | 2 | 0 | 0 | 0 | 0.0 | 0.0 | 0.0 |
J.J. Bedle was a wide receiver on the football team, who was a walk-on for the basketball team as a guard his freshman year. On a basketball team with a lot of talented guards (Gerry McNamara, Eric Devendorf, Josh Wright, and Louie McCroskey), Bedle's value was as a practice player. Bedle left the basketball team in early March to focus on football.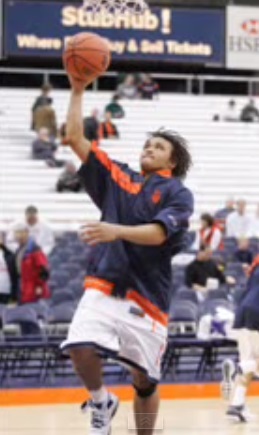 Bedle would be suspended from the Syracuse football team for disciplinary reasons in the Spring of 2006. He would transfer from Syracuse to Division I-AA Delaware State.
At Keyport High School, he was part of three state championship football teams. Bedle would die suddenly at the age of 21 in 2007.
Syracuse Football Stats

| Season | Cl | G | Rush Att | Yds | YPA | Rec Att | Yds | YPC | TDs | PR | AVG |
| --- | --- | --- | --- | --- | --- | --- | --- | --- | --- | --- | --- |
| 2005 | Fr | 8 | 3 | -11 | -3.7 | 3 | 28 | 9.3 | 0 | 7 | 28 |
| Career | | 8 | 3 | -11 | -3.7 | 3 | 28 | 9.3 | 0 | 7 | 28 |
© RLYoung 2006, 2007, 2021