| | |
| --- | --- |
| HS: Wilbur Lynch | Fort Johnson, NY |
Season Stats

| Season | Cl | Pos | G | GS | FG | FGA | % | FT | FTA | % | Reb | Fls | DQ | Pts | PPG | RPG |
| --- | --- | --- | --- | --- | --- | --- | --- | --- | --- | --- | --- | --- | --- | --- | --- | --- |
| 1956-57 | So | F | 5 | 0 | 3 | 9 | 33.3% | 0 | 0 | --- | 2 | 1 | 0 | 6 | 1.2 | 0.4 |
| 1957-58 | Jr | F | 20 | 15 | 33 | 92 | 35.9% | 39 | 55 | 70.9% | 101 | 44 | - | 105 | 5.3 | 5.1 |
| 1958-59 | Sr | F | 21 | 4 | 32 | 67 | 49.3% | 26 | 42 | 61.9% | 84 | 42 | - | 90 | 4.3 | 4.0 |
| Career | | | 46 | 19 | 69 | 168 | 41.1% | 65 | 97 | 67.0% | 188 | 87 | - | 201 | 4.4 | 4.1 |
Hal Noyes was a forward for Syracuse basketball for three years. Noyes was a good rebounder and had a decent set shot. Noyes also played outfield for the Syracuse baseball team.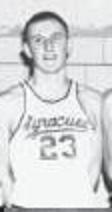 Noyes barely played on the varsity his sophomore season, appearing in five games. However, his junior season, he would move into the starting lineup. He would start the first four games of his senior year, but would eventually lose his position to sophomore Pete Chudy. Noyes would still be a valuable contributor as the sixth man, providing scoring, experience and rebounding as needed.
After graduation, Noyes because an insurance salesman. Eventually he set up his own company, Noyes Insurance, with eight employees. Noyes retired in 1992, moving to Steamboat Springs, Colorado, and became a real estate agent.
©RLYoung 2009, 2014, 2017