| | |
| --- | --- |
| Born: 12/27/1980 | Syracuse, NY |
Season Stats

| Season | Cl | Pos | G | GS | Min | FG | FGA | % | FT | FTA | % | 3Pt | 3PA | % | Asst | Reb | DReb | OReb | Fls | DQ | TO | ST | BS | Pts | PPG | APG | RPG |
| --- | --- | --- | --- | --- | --- | --- | --- | --- | --- | --- | --- | --- | --- | --- | --- | --- | --- | --- | --- | --- | --- | --- | --- | --- | --- | --- | --- |
| 2002-03 | Jr | | | | | | | | | | | | | | | | | | | | | | | | | | |
| 2003-04 | | | - | - | - | - | - | --- | - | - | --- | - | - | --- | - | - | - | - | - | - | - | - | - | - | 0.0 | 0.0 | 0.0 |
| Career | | | 5 | 0 | 6 | 1 | 1 | 100% | 0 | 0 | --- | 0 | 0 | --- | 2 | 2 | 2 | 0 | 0 | 0 | 0 | 1 | 1 | 2 | 0.4 | 0.4 | 0.4 |
Gary Hall was a reserve forward for Syracuse basketball for two seasons. He joined the team as a walk-on during his junior season.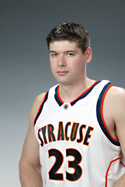 Hall played four years of varsity basketball at Tully High School, helping them to a 69-14 record. He was the team captain his senior season as the team went 23-1.
Hall would play a total of six minutes for the 2002-03 National Championship team. As a typical walk-on, he only saw playing time in lopside home games. He was a member of the team his senior season, but never played in a game. He scored his only points of his career in the last minute of a 94-58 win over Binghamton December 12th.
© RLYoung 2007