| | | |
| --- | --- | --- |
| 6'9" | 210 lbs | Center/Forward |
| | |
| --- | --- |
| HS: Utica Free Academy | Utica, NY |
Season Stats

| Season | Cl | Pos | G | GS | FG | FGA | % | FT | FTA | % | Reb | Fls | DQ | Pts | PPG | RPG |
| --- | --- | --- | --- | --- | --- | --- | --- | --- | --- | --- | --- | --- | --- | --- | --- | --- |
| 1955-56 | So | F | 13 | 0 | 8 | | | 11 | 14 | 78.6% | - | 14 | - | 27 | 2.0 | |
| 1956-57 | Jr | C/F | 10 | 0 | 5 | 10 | 50.0% | 3 | 4 | 75.0% | 14 | 7 | 0 | 13 | 1.3 | |
| 1957-58 | Sr | F/C | 4 | 0 | 0 | | 0.0% | 0 | | 0.0% | | | | 0 | 0.0 | |
| Career | | | 27 | 0 | 13 | +10 | 0.0 | 14 | +18 | 0.0 | +14 | +21 | 0 | 40 | 1.5 | 0.0 |
Gary Evans was a lanky reserve center and forward for Syracuse basketball for three seasons. Evans was a tall lanky player with a soft shooting touch.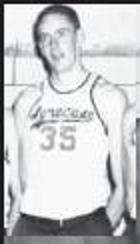 There were high expectations for Evans when he came to Syracuse based on his 6'9" height. He was expected to be the regular center his junior year but was beat out by Jon Cincebox for the position, and would see limited playing time the rest of the season.
His senior season started where his junior season ended, and he resigned from the team on December 22nd.
©RLYoung 2008, 2010, 2011, 2017