| | |
| --- | --- |
| HS: Massapequa | Massapequa, NY |
Season Stats

| Season | Cl | Pos | G | GS | FG | FGA | % | FT | FTA | % | Asst | Reb | Fls | DQ | TO | ST | BS | Pts | PPG | APG | RPG |
| --- | --- | --- | --- | --- | --- | --- | --- | --- | --- | --- | --- | --- | --- | --- | --- | --- | --- | --- | --- | --- | --- |
| 1974-75 | So | C | 31 | 31 | 58 | 141 | 41.1% | 22 | 36 | 61.1% | 30 | 144 | 92 | 4 | - | - | - | 138 | 4.5 | 1.0 | 4.7 |
| 1975-76 | Jr | C | 23 | 4 | 43 | 88 | 48.9% | 29 | 38 | 76.3% | 10 | 96 | 47 | 2 | 12 | 11 | 13 | 115 | 5.0 | 0.4 | 4.2 |
| Career | | | 54 | 35 | 101 | 229 | 44.1% | 51 | 74 | 68.9% | 40 | 240 | 139 | 6 | +12 | +11 | +13 | 253 | 4.7 | 0.7 | 4.4 |
Earnie Seibert was a center for Syracuse basketball for two seasons. Seibert was a large burly center with little speed and skill, but a lot of size to clog up under the basket.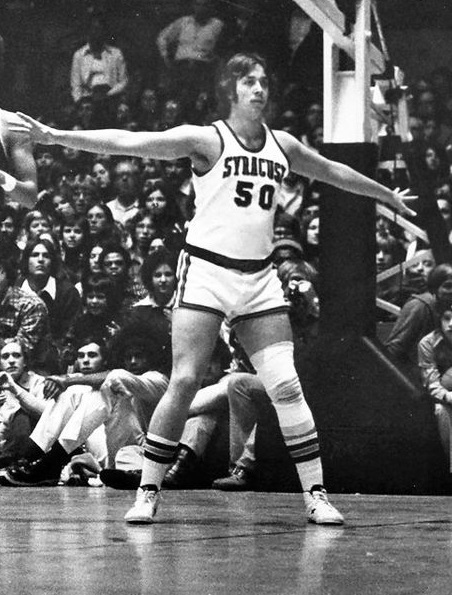 Seibert would start all thirty one games his first year on the varsity. It was a Cinderella season for the Orangemen as the team made it to the Final Four for the first time in school history. Seibert played his usual game in the post season, nothing spectacular, but did his part in helping the Orangemen to advance.
Seibert was the starting center his junior season for the first four games. However, Roy Danforth was not happy with Seibert's play, and inserted freshman Dale Shackleford into Seibert's place in the lineup. Seibert would lose more playing time, and by the end of December he was no longer on the traveling team. Things turned around for Seibert in the second semester; he would come off the bench and score 13 points in a road victory against LaSalle, helping to turn the game around.
Seibert would not academically qualify to play his senior year. He would graduate from Syracuse in 1977.
He would return to his hometown area in Long Island, and start a career as a truck driver. Seibert would eventually move into sales and marketing in the transportation industry.
©RLYoung 2009, 2014