| | |
| --- | --- |
| #25 Devin Brennan-McBride | |
| | |
| --- | --- |
| HS: St. Thomas Aquinas | London, ON |
| | |
| --- | --- |
| Born: 6/22/1988 | London, ON |
Season Stats

| Season | Cl | Pos | G | GS | Min | FG | FGA | % | FT | FTA | % | 3Pt | 3PA | % | Asst | Reb | DReb | OReb | Fls | DQ | TO | ST | BS | Pts | PPG | APG | RPG |
| --- | --- | --- | --- | --- | --- | --- | --- | --- | --- | --- | --- | --- | --- | --- | --- | --- | --- | --- | --- | --- | --- | --- | --- | --- | --- | --- | --- |
| | Fr | C | 6 | | | | | | | | | | | | | | | | | | | | | | | | |
| | So | DNP | 0 | | | | | | | | | | | | | | | | | | | | | | | | |
| Career | | | 6 | 0 | 23 | 2 | 2 | 100% | 1 | 2 | 50.0% | 0 | 0 | --- | 0 | 3 | 2 | 1 | 4 | 0 | 2 | 0 | 0 | 5 | 0.8 | 0.0 | 0.5 |
Devin Brennan-McBride was a reserve center at Syracuse for one season.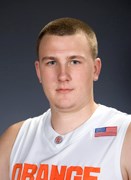 Brennan-McBride was the team captain of his high school basketball team his sophomore and senior seasons. He missed most of his high school senior season due to a shoulder injury.
Brennan-McBride would barely play his freshman year. He played in six games early in the season where he was clearly overmatched. His shoulder injury from high school bothered him again, so he had surgery in February, missing the rest of the season.
At the start of the 2007-08 season, Brennan-McBride played in both exhibition games. However, his shoulder was causing him too much discomfort, and it was determined his shoulder was not properly healing. Brennan-McBride would quit the team, and leave school after the fall semester.
© RLYoung 2007-2008