| | |
| --- | --- |
| HS: Lower Merion | Ardmore, PA |
Season Stats

| Season | Cl | Pos | G | GS | FG | FGA | % | FT | FTA | % | Reb | Fls | DQ | Pts | PPG | RPG |
| --- | --- | --- | --- | --- | --- | --- | --- | --- | --- | --- | --- | --- | --- | --- | --- | --- |
| 1951-52 | Fr | G | 12 | 0 | 8 | | | 2 | 4 | 50.0% | | 6 | | 18 | 1.5 | 0.0 |
| 1952-53 | So | G/F | 18 | 16 | | | | | | | | | | 129 | 7.2 | 0.0 |
| 1953-54 | Jr | G | 1 | 0 | 0 | | | 0 | | | | | | 0 | 0.0 | 0.0 |
| 1954-55 | Sr | G | 2 | 0 | 0 | | | 0 | 0 | --- | | 2 | 0 | 0 | 0.0 | 0.0 |
| Career | | | 33 | 16 | +8 | 0 | 0.0 | +2 | +4 | 0.0 | 0 | +8 | 0 | 147 | 4.5 | 0.0 |
Skip Thaw was a guard for the Syracuse basketball team for four seasons.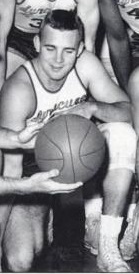 Thaw would play in twelve of the twenty games his freshman year. He would move into the starting lineup at guard his sophomore season. His scoring would pick up in the second half of the season, and he scored in double digits five of the last season games, including a career high of 15 in a loss to Penn State.
Thaw would be in an automobile accident prior to his junior season. The injuries from that accident would hamper his ability to play basketball, and he would be able to play only one game his junior season and two his senior year.[1]
©RLYoung 2015, 2017
[1] Syracuse Herald Journal, February 25, 1958