| | |
| --- | --- |
| HS: Bishop Kearney | Rochester, NY |
| | |
| --- | --- |
| Born: 12/23/1993 | Enugu, Nigeria |
Season Stats

| Season | Cl | Pos | G | GS | Min | FG | FGA | % | FT | FTA | % | 3Pt | 3PA | % | Asst | Reb | DReb | OReb | Fls | DQ | TO | ST | BS | Pts | PPG | APG | RPG |
| --- | --- | --- | --- | --- | --- | --- | --- | --- | --- | --- | --- | --- | --- | --- | --- | --- | --- | --- | --- | --- | --- | --- | --- | --- | --- | --- | --- |
| 2013-14 | Fr | DNP | - | - | - | - | - | | - | - | | - | - | | - | - | - | - | - | - | - | - | - | - | 0.0 | 0.0 | 0.0 |
| 2014-15 | So | C | 13 | 0 | 89 | 4 | 6 | 66.7% | 2 | 4 | 50.0% | 0 | 0 | | 3 | 21 | 11 | 10 | 19 | 0 | 1 | 3 | 4 | 10 | 0.8 | 0.2 | 1.6 |
| 2015-16 | Jr | C | 11 | 0 | 67 | 5 | 8 | 62.5% | 2 | 7 | 28.6% | 0 | 0 | | 1 | 18 | - | - | 21 | 2 | 3 | 3 | 5 | 12 | 1.1 | 0.1 | 1.6 |
| Career | | | 24 | 0 | 156 | 9 | 14 | 64.3% | 4 | 11 | 36.4% | 0 | 0 | --- | 4 | 39 | 11 | 10 | 40 | 2 | 4 | 6 | 9 | 22 | 0.9 | 0.2 | 1.6 |
Chino Obokoh was a center at Syracuse University. He came to Syracuse as a 'project', and unfortunately for the Orange, he did not develop enough to warrant playing time.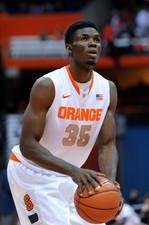 Obokoh was declared academically ineligible to play his freshman year by the NCAA due to concerns that he stayed in high school a year too long. Obokoh had stayed in high school an extra year to improve his English language skills.
He would play very few minutes his sophomore season, seeing only 89 minutes of playing time. Though there was opportunity for playing time his junior year, he had not improved enough for coach Jim Boeheim to play him significantly.
Ironically, Obokah would graduate a year early completing his degree in three years. He would use the graduate transfer rule to allow himself to transfer to St. Bonaventure and get playing immediate time while he worked on his master's degree.
© RLYoung 2013, 2015, 2016