| | |
| --- | --- |
| HS: St. Andrews | Barrington, RI |
| HS: Bishop Stang | North Dartmouth, MA |
| | |
| --- | --- |
| Born: 9/1999 | New Bedford, MA |
Season Stats

| Season | Cl | Pos | G | GS | Min | FG | FGA | % | FT | FTA | % | 3Pt | 3PA | % | Asst | Reb | DReb | OReb | Fls | DQ | TO | ST | BS | Pts | PPG | APG | RPG |
| --- | --- | --- | --- | --- | --- | --- | --- | --- | --- | --- | --- | --- | --- | --- | --- | --- | --- | --- | --- | --- | --- | --- | --- | --- | --- | --- | --- |
| 2019-20 | Fr | G | 23 | 0 | 201 | 15 | 50 | | 11 | 14 | | 3 | 24 | | 16 | 24 | 18 | 6 | 17 | 0 | 17 | 11 | 2 | 44 | 1.9 | 0.7 | 1.0 |
| Career | | | 23 | 0 | 101 | 15 | 50 | 30.0% | 11 | 14 | 78.6% | 3 | 24 | 12.5% | 16 | 24 | 18 | 6 | 17 | 0 | 17 | 11 | 2 | 44 | 1.9 | 0.7 | 1.0 |
Brycen Goodine was a guard for Syracuse basketball for one season.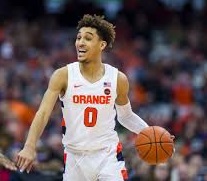 Goodine was expected to be one of the top reserves his freshman year. He was one of the most athletic guards on the team. However, the slow start for the Orange gave him limited opportunities for playing time. He broke his nose midseason during practice, and had to wear a mask for several games, which also hampered his development. He would see increased playing time as the year went on. Goodine would make the game winning basket against Wake Forest when he tipped in a missed Elijah Hughes basket with 1.5 seconds to go, giving the Orange a 75-73 win.
Goodine was unhappy with the prospects of future playing time and transferred after his freshman season to Providence.
Providence Statistics

| Season | Cl | Pos | G | GS | Min | FG | FGA | % | FT | FTA | % | 3Pt | 3PA | % | Asst | Reb | DReb | OReb | Fls | DQ | TO | ST | BS | Pts | PPG | APG | RPG |
| --- | --- | --- | --- | --- | --- | --- | --- | --- | --- | --- | --- | --- | --- | --- | --- | --- | --- | --- | --- | --- | --- | --- | --- | --- | --- | --- | --- |
| 2020-21 | So | G | 16 | 0 | 137 | 8 | 28 | 28.6% | 5 | 9 | 55.6% | 5 | 18 | 27.8% | 8 | 17 | 11 | 6 | 14 | - | 11 | 8 | 4 | 26 | 1.8 | 0.5 | 1.1 |
| Career | | | 16 | 0 | 137 | 8 | 28 | 28.6% | 5 | 9 | 55.6% | 5 | 18 | 27.8% | 8 | 17 | 11 | 6 | 14 | 0 | 11 | 8 | 4 | 26 | 1.8 | 0.5 | 1.1 |
© RLYoung 2019, 2020, 2021